Bad Marketing Strategy: Inventory Overload | Be Real Do Better – The Small Business Marketing Show, Ep. 10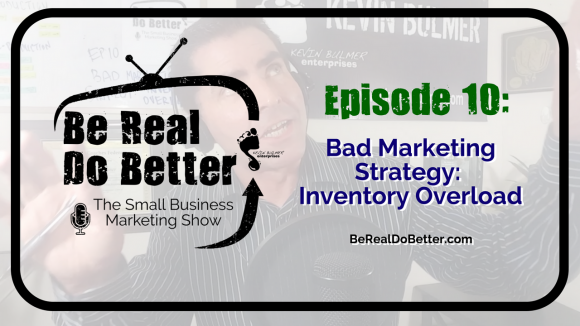 Have you ever heard the old expression about trying to cram ten pounds of stuff into a five-pound bag?
That's inventory overload. It's one of the most common – and ineffective – marketing strategies there is.
It seems we're so intent on proving our value and worthiness that we cram our ads full of what we think are features and benefits. Why? I think it's because we're trying to overwhelm listeners, viewers and social scrollers with evidence of our awesomeness.
But it's a bad strategy. It's ineffective because it literally turns our message into white noise or what you might call a "tune-out factor." And in a case like that, when our message doesn't resonate, showing it louder and more often isn't going to make it more effective.
In this episode, we cover:
– A recent example of a commercial I heard from a home improvement company, and all of the effective content I feel they missed by trying to stuff it all into one commercial.
– An example of another common drawback of "inventory overload," which is rapid-fire mention of models and makes specific to certain manufacturers or industry categories. Think of it like this: telling me how great your "R2D2, BB8 and C3PO" are does nothing for me if I haven't seen "Star Wars."
– How and why to slow down and draw out some of those quick "inventory" bullet points in the form of stories and messaging that real people may actually relate to.
Key Takeaway:
See if you can take an objective look at the way your marketing sounds, looks and reads and ask yourself if you could be breaking it down into more individual parts and telling stories about those things. What I think you'll find is that there is a lot more material there to work with than you may think you have available.
At the same time, look and listen to what you see and hear from other advertisers. Most likely, you're not even really noticing it because it's such a tune-out factor. It's "Blah, blah, blah." Try to force yourself to become more aware of it for a few days and see and my bet is that you'll quickly come to understand why "inventory overload" is an easy trap but an ineffective marketing strategy.
Click Here to visit iTunes & subscribe
Watch This Episode:
Click Here to visit YouTube & subscribe
---
Resources
Enter your email to get Kevin's Free PDF Guide: "Better Marketing Results in 3, 2, 1 … Go"

Or visit GetMarketingHelpNow.com
~ Get a free, personalized marketing assessment from Kevin: https://www.GearUpYourMarketing.com
~ Kevin's podcast on personal and professional growth, "Journeys with the No Schedule Man:" Click Here
Other Episodes You Might Like …
If you enjoyed this video, I'm pretty sure you'll like these ones as well:​
Join The "Turtle Tribe" Online Mastermind & Mentorship Community

The Turtle Tribe is an online mastermind, mentorship and creative collaboration community for Entrepreneurial Underdogs. It's a place to explore and embrace the process of your own personal and professional growth, from your own space and at your own pace.
To learn more and start a free 7-day trial membership, click here.