Be Creative, Curious & Crazy – Rakesh Mishra | Journeys with the No Schedule Man, Ep. 96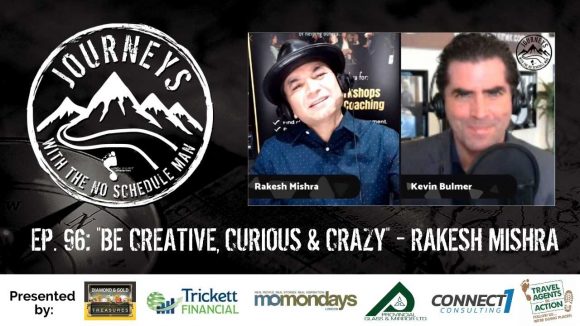 Rakesh Mishra is "possibility" personified. His life and many adventures seem as if they might have been lifted straight out of a storybook.
Except he's real.
After growing up in a poor Indian village with no electricity, automobiles or televisions, Rakesh went on to find himself in another part of the world entirely (Canada), retired financially at the age of 45. 
(To hear Rakesh tell his story, listen to his previous appearance on this podcast, in Episode 68).
Every dream he's set out for himself, he's made real. And now he lives and works with a passion to help others do the same for themselves.
In this conversation Kevin talked to Rakesh about what it takes to live your dreams and what holds so many people back. 
Want to take it "to go?" Here's where to find us:
Among other things, they discussed:
~Two questions Rakesh suggests everyone ask themselves. 
~ The differences between a life of survival, success and significance. 
~ What Rakesh and Tom Cruise have in common. 
~ How to know if you are "playing too small."
~ Why Rakesh feels everybody these days is forced to be an entrepreneur, even if they are an employee. 
~ Three things widely available that can help anyone with anything.
~ Rakesh's "secret" for success. 
~ How expectation and attachment hold people back. To learn more about Rakesh, visit https://www.coachrakesh.com
For all previous episodes of the podcast, visit https://www.NoScheduleManPodcast.com.
"Journeys with the No Schedule Man" is presented by:
Listen, Watch and Subscribe to "Journeys with the No Schedule Man"
You can find those and all archived episodes at NoScheduleManPodcast.com or at:
Stay up-to-date on new episodes!
Subscribe here to get Kevin's free email updates.
After you confirm your subscription, you'll immediately receive an email with a free 10-page PDF on Kevin's  "4 Keys To Contentment."
---
Kevin Bulmer is the founder of No Schedule Man Brand Media, producer and host of the momondays London inspirational event series and the strategic marketing coach for Awesomepreneurs.
As a dynamic, down-to-earth and highly engaging professional speaker, it's Kevin's intention to uplift through a shared example of continual growth. He has a gift for helping people see themselves from a fresh perspective on matters related to mindset and effective marketing messaging. In both cases, it pretty much comes down to just being true to yourself … a principle which is fundamentally simple, but not necessarily easy to do.