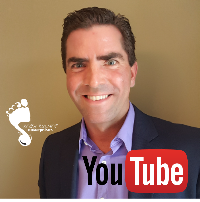 It often feels as if, every time we turn around, something awful is happening somewhere in our world. It can be overwhelming to think of how any of us could possibly make things more positive in the face of such darkness. So how can you be one of the people who make a difference? It's actually a lot easier than you may think.
Start where you are. Begin with the yourself, and the people immediately nearby. Right now. Today. Create and nurture positive energy, any way you can, over and over. And one thing you can do, starting now, is to speak up.
Here's a quick story of how this can work:
I've referenced going to the gym before. Last year, I wrote this story ("Show Up, Look Up, Cheer Up") about a time I really thought I'd be better left alone, but I spoke up anyway, and "accidentally" changed the energy of my day for the better, right there on the spot. I wasn't always like that. I had to choose to make a number of little choices, every day, to try and improve my state of mind. But it works.
Discovering the Magic of Thinking Big …
In Episode 11 of my podcast (with Kevin O'Hara of Alcohol Mastery.com), I mentioned to him how much I appreciated him sharing his thoughts on several books that had helped him, which he did in a podcast of his own. At that time in my life, I was not in a very good place, mentally or physically. Once a highly confident achiever, I was in a period of low self esteem and poor habits. My mental, spiritual and physical health were poor as a result (hence my searching out Kevin, but that's another story, told in that podcast episode). Exasperated with the way I was feeling, I figured I may as well try something different. So I picked up one of the books that Kevin O'Hara referenced, read it, and began to force myself to do just about everything it said.
That book was "The Magic of Thinking Big" by David J. Schwartz,
One of the many small acts that Schwartz suggests, something that we can easily incorporate into our days if we choose to, is speaking up.
In that book, Schwartz relates how we are so often prone to think, "If I say something, I'll probably look foolish. I'll just say nothing." He goes on to remind us that, "Each time the 'conference clam' fails to speak, he takes one more dose of confidence poison. He becomes less and less confident of himself."
However, there is another side to it. Again, from Schwartz: "On the positive side, the more you speak up, the more you add to your confidence, and the easier it is to speak up the next time. It's a confidence-building vitamin."
I've found all this to be true. Separation breeds negativity. And negativity is like poison, whereas confidence builds positive energy, strength, flexibility and resilience.

But You've Still Got To Do It …
Still, despite knowing this intellectually, it can feel very unnatural and uncomfortable to just start talking to people. I've felt that first-hand! Even though I have always been completely comfortable speaking – or even singing – in front of a crowd, I admit I always thought I preferred to be "left alone" at every other occasion. What I failed to recognize was how separate I was becoming from other people and how much natural positive energy I was missing out on, for myself and for others.
In his book, Schwartz goes on to say, "Remember, people are more alike, much more alike, than they are different. Get a balanced view of the other fellow. He is just another human being."
I took those words to heart, and literally forced myself to start talking to people in a friendly, positive fashion. I felt very awkward at first, striking up conversations with people at my gym, at the grocery store, at the bank, or at the gas station. But guess what I found out? I discovered Schwartz was right. I haven't once had anyone respond negatively. People's body language immediately changes when I try to make even the most modest or cliche connection with them. However simple, it's still a connection. And as Schwartz suggests, every single time you initiate of one those positive connections, you will feel as if you have enjoyed one those "confidence-building vitamins."
Comments, please! Who Makes The Difference For You?
Do you have someone in your life like the fellow I described in the video, above? Who are they? What do they do or say to help you smile? And … what can you be doing to be the one to make a difference for someone else?
Please do leave a comment or suggestion. Together, we can get this world going in a more positive spin, more often. One connection at a time.