Becoming a Resiliency Ninja: Allison Graham – No Schedule Man Podcast, Ep. 32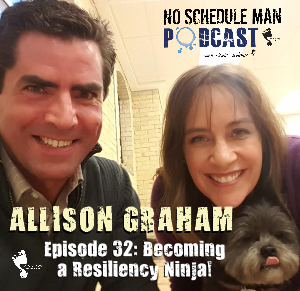 Allison Graham is a business growth consultant, speaker and best-selling author. She has been featured as an authority on sales and networking and has worked with some of North America's most influential brands. At the time of our conversation, she was just about to release a book called "Married My Mom, Birthed a Dog: How to be Resilient When Life Sucks."
Listen to Episode 32 on: iTunes | YouTube
Our podcast discussion came just about at the time of the creative culmination of the book, keynote speaking and related business launch that she had first conceived of more than six years prior. Though Allison has achieved and enjoyed a significant level of success helping businesses – and business people – become more effective with their sales and networking, as you will hear, she has long had a passion for wanting to contribute to the personal development field in an effort to be a help to others. We came across each other's paths at a very exciting and interesting time in her journey and if what Allison shared in this discussion is any indication, she is sure to knock it out of the park with the next phase of her adventures.
Some of the key things Allison has taken from her journey that I encourage you to listen for in this discussion include:
1. Identifying and Re-Voicing what she calls "The Internal Messenger of BS." As she said, "If we ever spoke to somebody else in front of us the way that we speak to ourselves, about ourselves, they would probably punch us!"
2. Awareness. More specifically, self-awareness. As Allison said during the course of our conversation, "I wish I had been self-aware enough to know that I needed a break."
3. Forgiveness. This is such a HUGE piece of the puzzle, one that in my opinion is missing for many of us. Applying responsibility and forgiveness together is the only path to emotional freedom I've discovered so far. Allison seems to feel the same way.
"What it takes to forgive is a very long journey but you let go in an instant. And I remember the instant that I let go. And so from that moment, the healing, I believe, really truly began."

– Allison Graham
Allison's is a remarkable story filled with all kinds of caring, authentic and valuable bits of hard-earned perspective that are sure to serve you well as you reflect upon your journey and road ahead also.
Here is the conversation with Allison Graham. Enjoy!
Podcast Episode Links:
Connect with Allison Graham
Allison's Websites: www.ElevateBiz.com | www.ResiliencyNinja.com
Allison on Social Media:  Twitter |  YouTube

Comments: Can You Relate to Allison?
Can you relate to Allison? What was a time when you caught yourself listening to that "Internal Messenger of BS" and how did you overcome it? When were you able to forgive someone or something, let go and move on?  What happened as a result? What is an example of a time you proved to yourself that you, too, are a "Resiliency Ninja?"
Please add your thoughts to the Comments Section, below.

Join Me On the Journey of Personal Development via Email
==> EMAIL  VIP <==
Special thanks to Allstage for their support of the No Schedule Man podcast!