Branding vs. Call to Action | Be Real Do Better – The Small Business Marketing Show, Ep. 8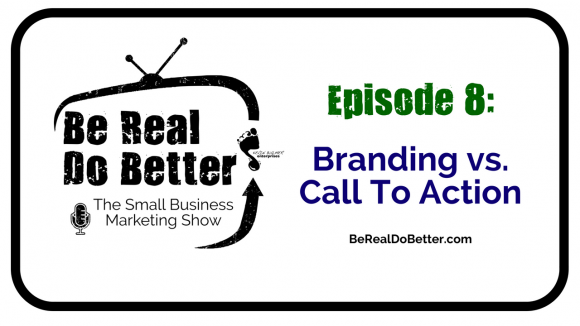 Most of us likely know somebody like this: a coworker, extended family member, friend of a friend. Every time you see them, they're asking you for something. You likely know the type: forever in need of a favour, hat perpetually in hand, asking all the time.
We all need to ask for something sometimes. It's healthy and necessary. But if every single communication is an interrogative based on self-serving motives, won't the person who is constantly being asked want to re-evaluate – or altogether avoid – that relationship at some point?
But back to the idea of asking all the time. That's most small business marketing in a nutshell.
In this week's episode, we cover:
– The difference between a "branding" (storytelling, relationship-building) approach to marketing vs constant "call to action" or "direct response."
– Why it's so difficult for a small business marketer to resist the temptation to put some sort of call to action into every single piece of paid communication.
– A few examples of how to think about your communication patterns, how asking and engaging is better than "commanding" and some sage advice from Seth Godin: "Interaction is better than interruption."
Key Takeaway:
What percentage of your ads, outreach and social posts include a direct call-to-action, and what percentage encourage interaction, engagement or just offer something helpful? Put yourself in the position of the listener/reader/viewer: from their point of view, what story are you telling about yourself?

Google "The Rule of 15 Social Media" and compare those suggestions to your typical content cycle. Ask yourself: is there room for more interaction and less interruption?
Listen to This Episode:
Click Here to visit iTunes & subscribe
Watch This Episode:
Click Here to visit YouTube & subscribe
---
Resources
Enter your email to get Kevin's Free PDF Guide: "Better Marketing Results in 3, 2, 1 … Go"
Or visit GetMarketingHelpNow.com
~ Get a free, personalized marketing assessment from Kevin: https://www.GearUpYourMarketing.com
~ Kevin's podcast on personal and professional growth, "Journeys with the No Schedule Man:" Click Here
Other Episodes You Might Like …
If you enjoyed this video, I'm pretty sure you'll like these ones as well:​
Join My "Turtle Tribe" Online Community
And if you're serious about cultivating a mindset that better serves your life, work and overall fulfillment, try joining my online community – The Turtle Tribe – for more coaching, support, encouragement and collaboration. To learn more and start a free 7-day trial membership, click here.