Bringing Visions To Life – Joseph Heraldo | Journeys with the No Schedule Man, Ep. 91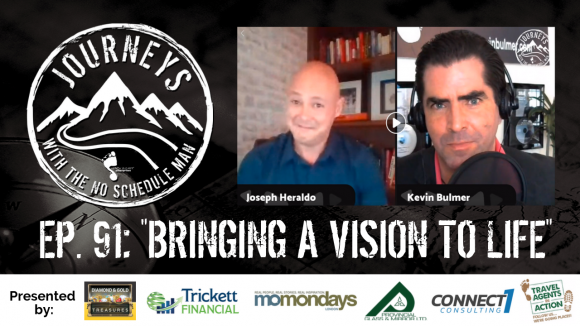 Suppose you've got a great idea. Or you're simply looking to do things better. And you're one of the few who are actually set to *act* upon the notion and see if you can get yourself and your team somewhere new.
Awesome.
But how do you give yourself the best chance to succeed?
And what do you do when the going when the going gets rough, or find yourself looping back upon ground you've already tread?
That's where a guy like Joseph Heraldo comes in.
Joseph is a Change Management Consultant and CEO of MeasuredLive.com. When asked, he says simply, "My job is to help people's dreams come true." 
He does that by helping leaders eliminate their barriers and committing to their vision, enabling their teams to share and work together toward their big ideas.
The magical thing about Joseph is that what he shares about how to get from concept to completion is not the sort of thing we may be used to hearing or expecting to be told.
Not only is his insight and wisdom effective, it's refreshing.
Want to take it "to go?" Here's where to find us:
Among other things we discussed:
~ Challenging the old ideas of always be  pushing, grinding and sacrificing your well-being . If you're pursuing a dream, why live it like a nightmare?
~ How strategy is a process and only works when people execute. 
~ How vital Integrity is to the equation and how it is a missing component in so much business language today.
~ The unstoppable power of listening.
~ Viewing people as people instead of statistics.
~ The staggering percentage of effort that is tied up in administration, and what can be done about it.
"Journeys with the No Schedule Man" is presented by:
Listen, Watch and Subscribe to "Journeys with the No Schedule Man"
You can find those and all archived episodes at NoScheduleManPodcast.com or at:
Stay up-to-date on new episodes!
Subscribe here to get Kevin's free email updates.
After you confirm your subscription, you'll immediately receive an email with a free 10-page PDF on Kevin's  "4 Keys To Contentment."
---
Kevin Bulmer is the founder of No Schedule Man Brand Media, producer and host of the momondays London inspirational event series and the strategic marketing coach for Awesomepreneurs.
As a dynamic, down-to-earth and highly engaging professional speaker, it's Kevin's intention to uplift through a shared example of continual growth. He has a gift for helping people see themselves from a fresh perspective on matters related to mindset and effective marketing messaging. In both cases, it pretty much comes down to just being true to yourself … a principle which is fundamentally simple, but not necessarily easy to do.