Discovering a Deeper Why – Gerry Visca | No Schedule Man Podcast, Ep. 51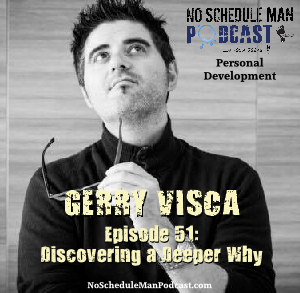 Known as the "Why Guy" and Canada's Creative Coach, Gerry Visca exists to inspire people and their ideas to action.  His current mission is to inspire One Million Whys, all around the world.
I'm hoping this podcast episode will help and make you and I at least a small part of it.
Listen to Episode 51 on: iTunes | Libsyn| YouTube
Gerry's energy and passion are awesome to observe. As one of Canada's top Inspirational Speakers, a 16-time author and publisher of Defyeneurs, Gerry's on a mission to inspire a new ROI in the World – one where we all Reach Out & Inspire others.
At the time of our conversation, Gerry has two new books just about to be released. One of them is called "Influence," and it celebrates 11 autobiographies of Women Inspiring Change.  The intention of the book is to inspire 11,000 people in the world to become someone of influence.
We're here for a bigger reason. We're here to connect and advance and thrive. And that's going to happen by going beyond aptitude tests and vocations and titles and ranks.

– Gerry Visca
The other, very near and dear to Gerry's heart, is a novel called "Remembering Why." As the first novel in his 16-book repertoire, the intention of "Remembering Why" is to take the reader on a wondrous journey of remembering why they exist.  The characters are full of life and each one is on their own journey of discovering what matters most. We all knew "why" as a child but somewhere along the way, we forgot who we truly are. 500 first-edition copies of "Remembering Why" will be released in July 2017.
Speaking with Gerry Visca was an absolute pleasure and privilege. I've completed over 50 podcast episodes now, and in that time I've found that each person who joins me brings a unique energy, story and perspective. It's my job to adjust to each of them and to try to extract what will be of most value to the listener. I also want each guest to feel as if conducting the interview with was a valuable use of their time.
With all of that in mind, I feel that my experience with Gerry was unique among all of the other people I've spoken with so far. That may not reflect in the way the conversation sounds (I've listened back to it a couple of times and it sounds pretty relaxed to me), but when I was in it, I felt like I really had to be on my toes. I mean that in a good way. I found the conversation – and especially the second half of it – stimulating and thought-provoking. I hope you do, too, and will come away considering your deeper "why," and become one of the million that Gerry has inspired.
Some of the key points I took from my time with Gerry include:
Finding Your "Why" Is Not Linear – His discussion points about discovering your "why" not being a linear process really made me think about my own journey to "why," my eventual reconnection to my inner child and where and when the different sparks of inspiration arrived.
Quantum Creation – I can only imagine how often Gerry gets asked something like, "How do you do all of this?" I get asked it a lot, so I can only imagine what it's like for Gerry. He gives us some great insight into it how he creates and does all that he does.
Passion + Purpose = Outcome – And the outcome is the deeper why. If you spend any time at all around Gerry or absorbing his work, you'll come across that formula of his. It may sound fundamental, but do you even know what you are passionate about? You may not. At a deeper level, you do. But on the surface? That may take some work. As Gerry said, "Most people are unaware that they are even unaware."
When you know why, and I'm talking the deeper why, the way is revealed. And the way is revealed only when you know why. And I mean the deeper why.

– Gerry Visca
Here is the conversation exploring the journey of Gerry Visca, the "Why Guy" … on the No Schedule Man Podcast.
Resources
Connect with Gerry Visca
Website: GerryVisca.com
Social Media: Facebook | Instagram | Twitter | YouTube
Other Episodes You Might Like …
If you liked Gerry Visca and his story, you'll probably enjoy these episodes:
You can find those and all archived episodes at NoScheduleManPodcast.com or on iTunes. Please subscribe and share!
Recommended or Related:
Comments: What's Your "Why?"
Do you know your deeper "why," or what you suspect may be parts of it? Please add your thoughts to the Comments Section, below.

Join Me Us this Creative Journey via Email: