Embracing Contentment & Letting Go: Derek Botten – No Schedule Man Podcast, Ep. 33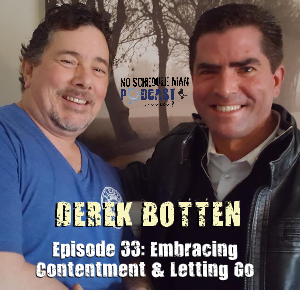 Derek Botten is a voice-over artist and voice actor who brings to life a wide variety of commercials, videos, voice characterizations, audio books and much more. To each project, he brings authenticity, sincerity and a kind and compassionate spirit.
A well-known radio broadcasting talent in Southwestern Ontario, Canada, Derek's career also includes a 10-year stretch as creator and producer of the "World of Motorcycles Expo" trade show and a variety of other pursuits such as motorcycle trainer and as an announcer at various motorsports events, among other things.
Listen to Episode 33 on: iTunes | Soundcloud | YouTube
These days, Derek most enjoys his voice work mixed with time cultivating his incredible creative and mechanical artistry by crafting a wide variety of furnishings and home accessories that he and his wife collectively refer to as "Lisa's Pieces" (some of those items are available for sale online here). I've never seen him happier.
It might sound cliché that if you do what you love doing, the money will follow. You hear people say that. You know what? It will. Or, you don't need that money anyway.

– Derek Botten
Derek is an absolute gem of a human being. I treasure his friendship, encouragement, wisdom and kindness well beyond what I feel I could accurately describe. It's my great wish that everyone should have at least one friend like Derek, and so perhaps that's why I feel compelled to share his spirit with you.
It's bothered me somewhat that the very first episode of this podcast (which features Derek) remains the only one where I have deliberately chosen the subject matter ahead of time and then steered the conversation toward that. My only regret about it is that I don't feel that episode offers anywhere near the full scope of Derek's vast experience, kind heart, giving nature and deep emotional intelligence. I've often wished I could bottle some of the wisdom that Derek has shared with me over the years and pass it along so that it might be of benefit to others. And so with that in mind, it was important to me to celebrate the first anniversary of the No Schedule Man Podcast by asking Derek to return and to have a discussion more about life and the journey and finding contentment and letting go. And that's exactly what happened.
Having said that, I admit I'm guilty of manipulating this conversation a little bit too. While we started off talking about some of the work that Derek is currently doing as a voice artist, what I really wanted to chip away at and discover was the "Why" behind one of my closest friends being as content as I've ever seen him. What are the factors that went into finding and cultivating that place? What are some of the challenges that needed to be faced? What are some of the things that we would do differently if we could do them over again, keeping in mind that we would not be who we are today if we had not had the experiences?
I think we're completely brainwashed. And if I had one piece of advice to give my 20-year-old self, it would be, 'Don't be brainwashed. Go with your heart. Do something that you love doing.'

– Derek Botten
This particular episode is very much a conversation. It's not so much an interview as a philosophical chat between two very close friends. While it goes a little bit deeper than we might have if we were just meeting for breakfast, I do feel that this conversation is representative of so many of the very helpful discussions that we have enjoyed over the years, and I hope that you are able to gain something from it as well and feel free to chime in with your own thoughts on any of the subjects we discussed. You can do that by adding it to the comments, section below.
Some of the key things that stood out from the discussion with Derek include:
The empowering value of letting go
Reframing "regret" and appreciating who you are now as the sum of your collective experience
Getting to the cause of something (as opposed to continually treating symptoms) and being mindful of which example or path you're choosing to follow
We talked about everything from Aerosmith to alcohol, Christmas to contentment and media to mindfulness. It was a real pleasure to dive into these subjects with Derek. As you can likely tell by now, I love him dearly, and I hope that, by sharing this conversation, some of that good feeling flows over to you as well.
Podcast Episode Links:
Connect with Derek Botten
Derek's Websites: www.DerekBotten.com | "Lisa's Pieces"
Derek on Social Media:  Twitter | "Lisa's Pieces" on Facebook

Comments: Do You Have a Friend Like Derek?
Do you have a friend like Derek? Who are they? What makes them so special to you? How have your lives been positively affected through the friendship and/or what are some of the things you've learned from each other? Please add your thoughts to the Comments Section, below.

Join Me On the Journey of Personal Development via Email
Click to Receive Free Gifts & Exclusive Content ==> EMAIL  VIP <==
Special thanks to Allstage for their support of the No Schedule Man podcast!