Facebook Page Basics | Be Real Do Better – The Small Business Marketing Show, Ep. 18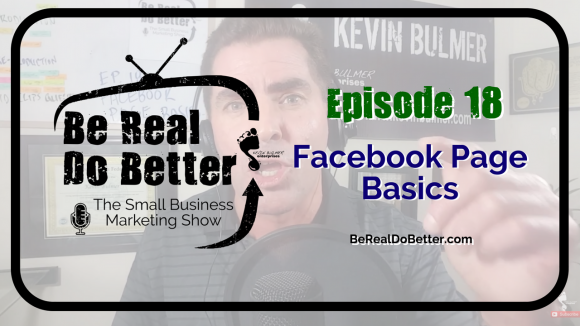 It's not 2008 anymore, and the distribution models of some social media platforms have changed significantly since then. If you are looking to effectively connect and communicate your small business or organization using Facebook, there are a few basic things you'll want to know.
In this episode…
– How it used to be 10 years ago.
– How it is now, what is free and what is not.
– What percentage of your followers you can expect to actually see the content and posts you share and what you can do about it.
– Your best strategy to create more organic reach, which is the same thing you should probably be doing anyway.
Key takeaway:
See if you can look at your Facebook page from a different perspective. How engaging is it? How interactive is it? If you were the other person, why would you like or follow it?
Click Here to visit iTunes & subscribe
Watch This Episode:
Click Here to visit YouTube & subscribe
---
Resources
Enter your email to get my Free PDF Guide: "Better Marketing Results in 3, 2, 1 … Go"
For my podcast on personal and professional growth, "Journeys with the No Schedule Man:" Click Here
Other Episodes You Might Like …
If you enjoyed this video, I'm pretty sure you'll like these ones as well:​​
Join The "Turtle Tribe" Online Mastermind & Mentorship Community

The Turtle Tribe is Kevin's online mastermind, mentorship and creative collaboration community. It's a place to explore and embrace the process of your own personal and professional growth, from your own space and at your own pace.
To learn more and start a free 7-day trial membership, click here.