Fear Less & Live More: Sue Curr – No Schedule Man Podcast, Ep. 23
What age would you consider yourself to be? Given how Sue Curr framed it in this fabulous discussion in Episode 23 of the podcast, I figure myself to be somewhere around 3 or 4. Maybe less.
The age Sue's referring to, clearly, does not directly reference any date on your birth certificate. Instead, it's reflective of when the real you came to be: the time since you asked, understood and actually embraced who you truly are at your essence. And, as we learn from Sue, knowing who you are is one thing. Courageously putting it into action is quite another.
After you listen to this episode, I think you'll agree Sue's doing remarkably well, especially for a 4-year-old.
Listen to Episode 23 on: iTunes | Soundcloud | YouTube
Sue Curr is a Speaker, Empowerment Coach & Author who prides herself on being able to inspire others to Fear Less & Live More by adopting the practices of forgiveness, gratitude, mindfulness & positivity as part of their daily lifestyle choices.
Sue has 15-year background in the fields of education and social healthcare specializing in Mental Ill Health Awareness. She works tirelessly with people of all ages, enabling them to achieve their full potential and instilling in them the confidence to live life in their own way.
Sue's story is an incredible example of all the things I feel so passionately about: Hope, Creativity, Accountability and Positive Action. She's got them all covered, but as you'll hear, she did not come by living life on her own terms without significant effort, challenge and change. She does a wonderful job of sharing her story openly and genuinely.
This chat with Sue was a  complete delight and was filled – from start to –finish with terrific examples of hard-won wisdom that can only be earned through living the journey. We're better for Sue being willing to share with us.
Here are a few of the key things that stood out from my time with her:
Just how far a facade will take us. We can get a long way – sometimes all the way – through life living behind a "facade," as Sue puts it. Call it what you like: a mask, a persona, a facade … in any case, when we're living behind the facade of not being true to ourselves, and without even necessarily being aware of it, we're doing ourselves incredible harm by putting up appearances that do not reflect how we're really feeling, all because we fear being judged by others. Sue's message? We can drop the facade, face the fear and truly start living your life.
The power of "No." This one seems almost counter-intuitive, but it's a key area of struggle for many compassionate people. Sue identifies herself as having been a "people-pleaser" and that she almost never said "no" to anything, hoping and expecting that she did all she could to keep everyone happy, she'd feel validated and appreciated. There's nothing wrong with doing for other: of course, it's a fundamental part of a fulfilling life. But in order to fully give to others, one must sometimes employ those two letters: 'N' & 'O', to take care of oneself. After all, you can't be of service to others if you're totally depleted.
Taking responsibility. I love what Sue shares about this. One of my favourite Authors and Lecturers, Tara Brach, might call this "Radical Acceptance." Listen for what Sue says about taking responsibility for her own experiences. It can be a little scary, but it's undeniably empowering to own responsibility to your own experience.
This is a powerful story from a kind, genuine and dynamic woman. It was my great privilege to spend the time with her, and I'm equally as grateful to be able to share her spirit with you now.
Connect with Sue:
Official Website: www.suecurr.com
Facebook Community: www.facebook.com/suecurrlivinglifefromtheinsideout/
Twitter: twitter.com/SueCurr
Instagram: www.instagram.com/fearlessfiercefabulous/
Stay up-to-date on new episodes!
Subscribe here to get Kevin's free email updates.
After you confirm your subscription, you'll immediately receive an email with a free 10-page PDF on Kevin's  "4 Keys To Contentment."
---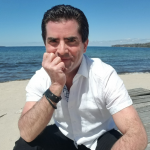 Kevin Bulmer is the founder of No Schedule Man Brand Media, producer and host of the momondays London inspirational event series and the strategic marketing coach for Awesomepreneurs.
As a dynamic, down-to-earth and highly engaging professional speaker, it's Kevin's intention to uplift through a shared example of continual growth. He has a gift for helping people see themselves from a fresh perspective on matters related to mindset and effective marketing messaging. In both cases, it pretty much comes down to just being true to yourself … a principle which is fundamentally simple, but not necessarily easy to do.