Fun, Freedom & Flow – Matthew Kimberley | Journeys with the No Schedule Man, Ep. 73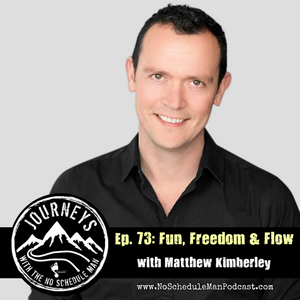 What do you think would happen, in work and at home, if you were to allow yourself to be exactly who you are, embrace who you are not, connect with the people for whom you are a fit, and joyfully wish all others well as you let them go along on their own unique path, with or without you?

I know, that sounds fundamentally simple, doesn't it?
Well, it's not. If it were, you'd be doing it. And so would I. And we'd be better for it.
The good news is, today I'm going to introduce to somebody who is doing that better than just about anyone else I've ever seen.
Stay up-to-date on future episodes:

What if you just allowed yourself to just be …. yourself? What if you communicated like an actual human being, free to engage and help those who vibe with your style, and equally happy to let others go to be helped by someone else for whom they may be better suited?

What would happen if you did that?

How about this: Listen to today's guest, Matthew Kimberley, and then you tell me. Because he's one of the rare people who I believe to be doing just that, and in this episode, Matthew shares about his journey of self realization, what worked for him, what didn't, what he did about it and how he decides what now gets his time and attention and what does not.

Matthew is the creator of Professional Persuasion and author of the self-help classic, "How To Get A Grip." He trains sales teams and helps very small personality-led businesses get more customers.
But more than any of that, when I first came across Matthew and his work, his voice, I felt like I had finally found a breath of pure oxygen in world full of carbon dioxide. Or more specifically, someone in the sales, marketing, coaching and speaking space who is actually real; an authentic and 100% genuine voice shared by someone who is perfectly happy to be exactly who he is and who he is not.

It's possible that my viewpoint is slightly exaggerated because I've had so much first-hand experience in sales and marketing in some form or another. I've been put through more sales trainings than I can remember, read all kinds of books on the topic and studied my fair share of "leaders in that space."
Matthew's voice rings the most genuine to me. I already liked Matthew's work a lot, but I like it even more after having had the chance to speak with him in the discussion that makes up this episode of the podcast.
I loved everything about the genuineness of this conversation, and I think you will too. But here are just a few takeaways that immediately  stood out to me:
Confidence vs. Enthusiasm – Matthew talked about how they're not the same thing but how you can use one to help deal with the idea of (or fear of) rejection. Guess which one it is, and how to use it? 
"Idearrhea" – When Matthew talked about "getting better at finishing," I instantly related to what he was saying. It's an area I am constantly working at having the discipline to improve. And if I've ever heard the phrase "Idearrhea" before, I don't remember it, though I can quickly confess I have that particular affliction.
The struggle with comparison – Matthew talked about people's tendency toward downplaying their own progress or achievements due to comparing with others. It's an important observation that many of us would be wise to take to heart.
I also really like Matthew's framework of "Procrastinator, Player, Manager, Master," which he touches on toward the end of this conversation. That alone will provide anyone in business with a good accountability exercise or "temperature check" on where they really are and what kind of help might most benefit them.
This really was a lot of fun. Here is the conversation with Matthew Kimberley, on Journeys with the No Schedule Man:
Podcast Episode Links
Listen to this episode on: iTunes | iHeart Radio | Libsyn| Stitcher | YouTube
Learn more about Matthew Kimberley
Website: www.matthewkimberley.com
Social Media: Facebook | Twitter 
Work with Matthew Kimberley
Here are a couple of terrific ways that anyone can give themselves the opportunity to learn from Matthew:
1. "Single Malt Mastermind"
Single Malt (more action less talk) Mastermind is a business-owners mastermind unlike any other. Private coaching for a price so low you'll wonder what the catch is. 
To learn more and enroll in Matthew Kimberley's "Single Malt Mastermind," click here.
2. School for Selling
Matthew has make available most of the lessons he's gained from a life in selling and put them into the "School for Selling." There are two tracks to it. One is Sales Training and the other is The Art of Self Promotion. You can learn all you need to and enroll by clicking here.
Other Episodes You Might Like …
If you enjoyed the story in this episode, I'm pretty sure you'll like these ones as well:​
You can find those and all archived episodes at NoScheduleManPodcast.com, iHeart Radio, iTunes, Stitcher, YouTube and on Google Play Music.