Here's The Real "Problem" | Be Real Do Better – The Small Business Marketing Show, Ep. 20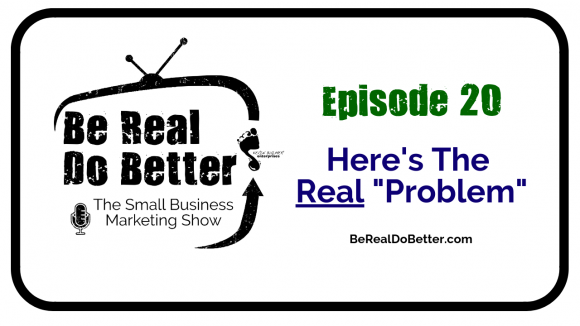 Feeling that we're marketing ourselves effectively is just one of many common business "problems."
But, almost always, there is a deeper, simpler, more fundamental "problem" beneath that problem. Once we turn our attention to it, and actually do something about it, many of the other common "problems" related to business – marketing included – suddenly seem to be solve themselves.
That's what this episode is about: the real "problem" beneath the "problem."
In this episode …
~ What to be thinking instead of "top of mind awareness" and "getting my name out there."
~ The difference between something we think we can buy as opposed to something we do.
~ A mindset shift between "advertising" and "marketing."
~ How marketing suffers when it becomes – like so many other things in business – a people problem, when it gets put into the "just get it done" pile.
~ A few key things to look for in your own efforts to see whether or not you're stuck in old patterns or if you're actually giving yourself a chance to create and cultivate new customer relationships that will last.
Click Here to visit iTunes & subscribe
Watch This Episode:
Click Here to visit YouTube & subscribe
---
Resources
Enter your email to get my Free PDF Guide: "Better Marketing Results in 3, 2, 1 … Go"

For my podcast on personal and professional growth, "Journeys with the No Schedule Man:" Click Here
Other Episodes You Might Like …
If you enjoyed this video, I'm pretty sure you'll like these ones as well:​
Join The "Turtle Tribe" Online Mastermind & Mentorship Community

The Turtle Tribe is Kevin's online mastermind, mentorship and creative collaboration community. It's a place to explore and embrace the process of your own personal and professional growth, from your own space and at your own pace.
To learn more and start a free 7-day trial membership, click here.