INFORMATION & REGISTRATION:
What Is This?
It's a fun, effective and engaging group coaching (workshop-style) day, with a half-day (morning) session option and a VIP full-day session option that includes 1-on-1 follow-up with two of the most dynamic dream-making forces in the area: Coach Rakesh Mishra & Kevin Bulmer, "The No Schedule Man. Please see above and click the "More Info" arrow (upper right, under the "Impossible Dreams" image) or click here for more information and to register.
Option 1 

– Morning Session (half day)

Max. of 16 spaces available. You'll hear from both Kevin & Coach Rakesh and will dive into the principles of an empowering mindest + the strategies we can use to earn millions … or achieve whatever our "impossible dreams" may be! You'll leave this half-day feeling empowered, eager, alive & invigorated!
Option 2 – Full Day Session + 1:1 follow-up
Just 4 spots available. Includes half-day morning session plus an exclusive, VIP afternoon session where you'll work closely with both Kevin & Coach Rakesh, collaborating on YOUR individual dreams & goals and setting a customized action plan for making them real. You'll also receive a 1:1 follow-up call with both Kevin and Rakesh to remain accountable to yourself & keep your dreams on track!
When & Where Is This?
Tuesday, October 1, 2019 – 9:00 am – 12:00 pm (half day) or 9:00 am – 5:00 pm (full day)
The Hive London – 1350 Wharncliffe Rd S, London, ON N6L 1G9 (just south of Southdale Rd.)
Registration
To register, click the "more info" link above, or click here.
Want to see more? Watch this video with Rakesh & Kevin:
---
About Coach Rakesh Mishra
Rakesh Mishra began his life as an Indian village boy.
He went on to earn millions in Canada.
Often referred to as the "real slumdog billionaire," Rakesh grew up in poor conditions with no electricity, no automobiles, no TV and no example to show him any other world of possibilities. He grew beyond those conditions anyway, and not only changed his life and location, but was able to retire by age 45 so that he could invest the rest of his life helping others.
How did he do it? Visit him at "Impossible Dreams Made Real" and find out!
---
About Kevin Bulmer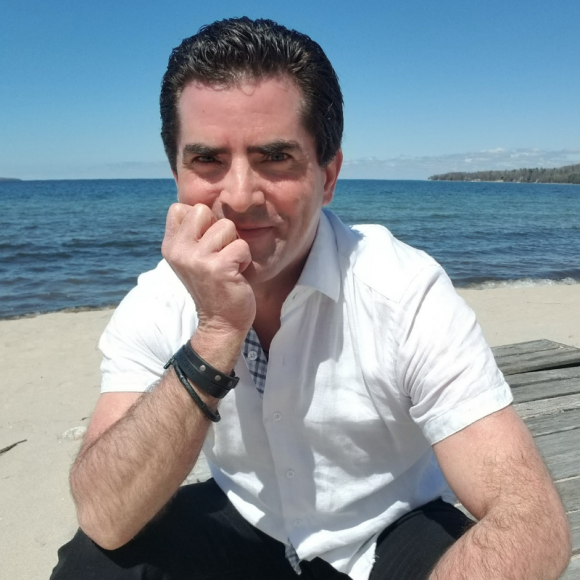 Kevin is the founder of No Schedule Man Brand Media, producer and host of the momondays London inspirational event series and strategic marketing coach for Awesomepreneurs.
As a dynamic, down-to-earth and highly engaging professional speaker, it's Kevin's intention to uplift through a shared example of continual growth. He has a gift for helping people see themselves from a fresh perspective on matters related to mindset and effective marketing messaging. In both cases, it pretty much comes down to just being true to yourself … a principle which is fundamentally simple, but not necessarily easy to do.