Learn To Do By Doing – Doug Vincent | No Schedule Man Podcast, Ep. 43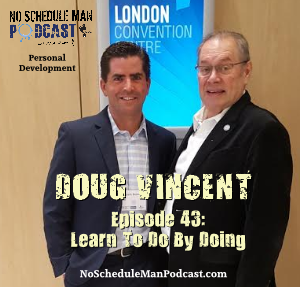 Doug Vincent is a Charter Member and Past President of the Woodstock-Oxford Rotary Club in Canada. He has traveled the world on Rotary humanitarian aid activities and is a Rotary Representative to the United Nations, among many, many other things.
As a third generation graduate of his family's successful farm equipment business, he is now an international advisor to family business corporations, with a focus on harmony and communications in family business.
Listen to Episode 43 on: iTunes | Soundcloud| YouTube
Doug is an honorary "Colonel" in the Philippine National Police, recognizing his role promoting global understanding, brotherhood & world peace. He has been recognized with several Leadership and Appreciation Awards for his work, including a President's Citation and the prestigious Service Above Self award, among many others.  Most recently he was recognized as a distinguished Canadian with a special Queen Elizabeth Diamond Jubilee Medal.
Doug is often called Rotary's "Roving Ambassador."  He is a kind, caring and compassionate man and the stories he tells in this episode are absolutely priceless.
As a Rotarian, we go in there and we try to shine a light of hope and compassion.

– Doug Vincent
I first met Doug only recently. and from our very first conversation, I was – and remain – grateful for the opportunity to share his company. As you'll hear, Doug has a wealth of first-hand experience in a world which I am presently only just aspiring to, but he has never been anything but completely supportive, collaborative and encouraging to me. It's people like Doug that make people like me want to become a better version of themselves and to work harder to make a positive difference.
During our conversation, Doug told a few stories that ran straight through my spirit. If you listen to nothing else in this episode, please at least take a moment and jump to the 60-minute mark of this episode to hear Doug's observation of the "Water Turnover Ceremony." The other tale I hope you'll allow yourself to hear is the one Doug recalls near the very end of our conversation (at around 1:09:45) about wheelchair and the gentleman in Mexico, and how that story is indicative not just of the positive difference that can be made, but of just how much more of a difference could be made with very little extra effort.
Things will happen if it's meant to happen and it will happen in the time it's supposed to happen.

– Doug Vincent
Among the many key things that stood out from my time with Doug include:
Saying Yes To Life – Doug gives a powerful account of what led to his decision to say "yes" to more global engagements, and what caused him to make a commitment to himself of something he would do within 30 days of getting home after being unwell in another part of the world.
Learn To Do By Doing – As Doug described his start in his own branch of the family business, "Rather than me going into a big business when I didn't have big business skills, this allowed me to start from grassroots small business. And then my business skills grew at the same time as the business grew." He shares many valuable insights along these lines, a must-listen for aspiring entrepreneurs and those looking for a succession plan for their existing business
Understanding the Difference One Person Can Make – Doug recounts a moving story near the end of our discussion that truly gave me pause for consideration. He observed that, "I get really, really, really frustrated when people don't see the difference they could make in a very simple way." Each and every one of us has the opportunity to make a positive difference. And for each one of us who does, the bigger the collective difference we all make.
The smile of a child is my reward, quite frankly.

– Doug Vincent
Here is the conversation exploring the journey of Doug Vincent, on The No Schedule Man Podcast:
Podcast Episode Links:
RESOURCES
Connect with Doug Vincent:
Website: www.dougvincent.com
Rotary: www.rotary.org (for information on Causes, Programs and How To Get Involved)
Other Episodes You Might Like …
If you liked Doug Vincent and his story, you'll probably enjoy these episodes:
You can find those and all archived episodes at NoScheduleManPodcast.com or on iTunes. Please subscribe and share!
Comments: What Difference Would You Like To Make?
Let's suppose you had the time and resources to do whatever it is that you wanted to do in order to make a positive difference somewhere in the world. What would you want to do?
Please add your thoughts to the Comments Section, below.

Join Me On this Creative Journey of Personal Development via Email