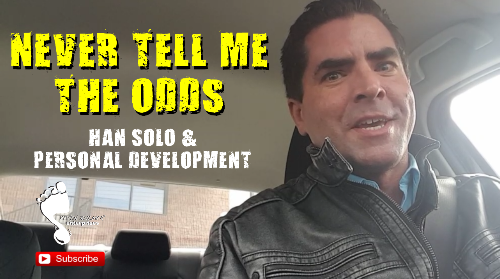 It occurs to me that I've always liked characters who, no matter how bad things seem to be, always figure that there was a way out or a way forward. Ever since I was a little kid, I always loved Han Solo from the Star Wars movies and I never even really thought all that much about why. But it's starting to make a little bit more sense to me now.
Join me on the journey: YouTube Subscribe | Mailing List
There's one scene in particular in the second original film, The Empire Strikes Back. They're getting chased through space by the bad guys and as their ship, the Millennium Falcon, is flying along, and something runs into it. Han Solo runs up to the cockpit to find out that they're entering an asteroid field: gigantic space rocks flying all around. It's a bad deal, right?
He sits down at the controls getting ready to engage and Princess Leia starts to panic and she says, "You're not actually flying into an asteroid field, are you?"
And Han Solo says, "They'd be crazy to follow us, wouldn't they?"
Then C3PO, the robot, starts having an anxiety attack: "But sir, the odds of successfully navigating an asteroid field are approximately 3,720 to one!"
And Han Solo says, "Never tell me the odds."
And on he goes (into the asteroid field).
If you want to move forward in life and do things that you've never done before and enjoy things that you've never had before, you are gonna have to fly into a few asteroid fields. Treat all the naysayers like C3PO. Shut him up or shut him off, but never tell me the odds.
Come along on the journey! SUBSCRIBE to my YouTube Channel and join my mailing list for updates.