Podcast interview about owning your choices with Sara Westbrook
In this episode, I had the chance to sit down for a chat with Sara Westbrook, who I first met back around 2009 when we both performed at a live music event here in town. I'd heard of her before but had never taken the opportunity to speak with her in depth about what she was doing. I'm glad the chance to do that here, because I believe that what Sara is doing is really important stuff.
Sara is a motivational speaker, author & singer who specializes in resilience, confidence and respect. She is the creator of UPower, helping people to see that they are in control of owning their choices. How they choose to act, react and what they choose to believe is all up to each individual.
Subscribe to the podcast:
Sara has shared her UPower presentations with over 200,000 students and parents, using her own personal stories and songs to give them the skills necessary to take back their own UPower and create resilience, confidence and respect.
Sara also has created the the UPower journal, not only for young people to express their thoughts and feelings, but also to build their confidence and resilience through the stories, exercises, and quotes found inside.
Key takeaways from Sara:
Owning your choices – No matter what may be going on in the world, you have the ability – and responsibility – to choose what you want to think, feel, say and do. It's your choice, how you wish to act and react to other people and situations.
Work your mental and emotional muscles as you would any other part of your body. Sara tells a great story about this in our conversation.
The power of sharing. Sara tells some stories about how powerful it was when other people shared very personal things while trying to help her – being real – why she makes sure to do that in her presentations.
Talking with Sara was completely enjoyable and enlightening. Her perspective and enthusiasm are absolutely contagious. You're going to love this conversation about owning your choices.
Here's a photo of the journal entry in the UPower Journal Sara refers to in our discussion: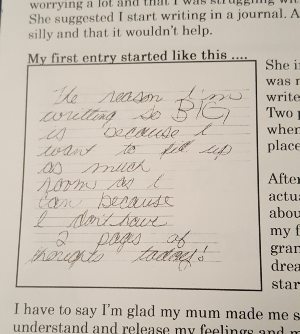 Here's how to reach Sara directly:
Sara's Official Website: www.sarawestbrook.com
Sara's YouTube Channel: www.youtube.com/upowerconcerts
Sara on Facebook: www.facebook.com/sarawestbrookfanpage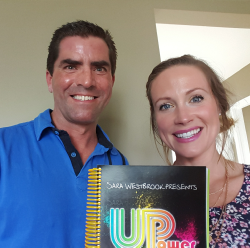 Subscribe to "Journeys with the No Schedule Man"
You can find those and all archived episodes at NoScheduleManPodcast.com or at: Apple Podcasts (iTunes) | Google Podcasts | iHeart Radio | Spotify | Stitcher
Stay In Touch:
Subscribe here to get Kevin's free inspirational email updates.
After you confirm your subscription, you'll immediately receive an email with a free 10-page PDF on Kevin's "4 Keys To Contentment."
---
Kevin Bulmer is a Strategic Marketing and Mindset Coach and Keynote Speaker and founder of No Schedule Man Brand Media. He is the producer and host of the momondays London inspirational event series, strategic marketing coach for Awesomepreneurs and host of the podcast, "Journeys with the No Schedule Man."
Day-to-day, Kevin helps heart-centered entrepreneurs find their "REAL" success so they can feel free to live and work happy. His overarching purpose is to uplift through a shared example of continual growth.