Grounded in Gratitude, Tied to Technology: Carmi Levy – NSM Podcast, Ep. 19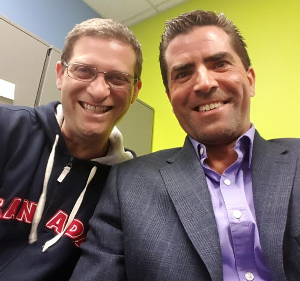 Carmi Levy is a leading Canadian technology journalist and analyst. He provides insights into how technology is reshaping the way we work and live. He writes extensively for some of the leading publications in Canada, and is a frequent on-air contributor on radio and television when technology-related news needs additional perspective.
Basically, when a media outlet from somewhere across Canada wants to know about latest in technology, they call Carmi.
Carmi has a challenging task: he stays on top of an always-changing industry and does his best to make complex technologies seem simple for the rest of us. And he's pretty darn good at that.
More than that, Carmi is a wonderful human being, one of the few that I see on a day-to-day basis that makes sure to acknowledge and appreciate the simple acts of others. A stroke survivor, Carmi has lived through some challenging times that forced him to look at things a little differently from that point on. His perspective is extremely valuable.
Want to take it "to go?" Here's where to find us:
Some key takeaways from my time with Carmi:
1. Gratitude. Carmi may be the best, among people I know, at naming and appreciating all the little things, every single day. I admire and appreciate it and am trying to be more like him. It's worth the effort.
2. Usability. It's not what you have. It's what you do with what you have that matters. I love what Carmi shared about this during our discussion. Listen for it. It will change your perspective on a number of levels.
3. Impermanence. It runs through everything we discussed, from the forever-changing technological landscape to the act of naming and appreciating all the good things as we go through life, Carmi acknowledges that nothing stays the same forever. Enjoy it now. It's a great lesson.
Here's my conversation with Carmi Levy:
Listen, Watch and Subscribe to "Journeys with the No Schedule Man"
You can find those and all archived episodes at NoScheduleManPodcast.com or at:
---
Kevin Bulmer is the founder of No Schedule Man Brand Media, producer and host of the momondays London inspirational event series and the strategic marketing coach for Awesomepreneurs.
As a dynamic, down-to-earth and highly engaging professional speaker, it's Kevin's intention to uplift through a shared example of continual growth. He has a gift for helping people see themselves from a fresh perspective on matters related to mindset and effective marketing messaging. In both cases, it pretty much comes down to just being true to yourself … a principle which is fundamentally simple, but not necessarily easy to do.