Putting Purpose Into Perspective: Eustan Matthews | No Schedule Man Podcast, Ep. 42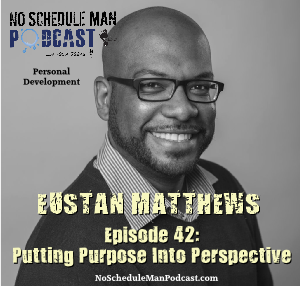 Eustan Matthews is a Business Coach, Consultant & Speaker who helps busy entrepreneurs and business owners avoid or escape what he calls "The Freedom Quandary." At the time of our discussion, he's taken on a project called "40 Coffees in 40 Days," designed to meet with a different small business owner on 40 separate occasions and to solve one challenge in their business over a cup of coffee.
It's clear that Eustan is passionate about helping other people, and when you spend even just a few moments with him, you'll quickly realize that his kind and nurturing spirit puts you at ease. His personality is a terrific fit for anyone looking for another perspective on their business, seeking someone they can trust, who will listen and offer honest, actionable feedback. And with technology as it is today, geography is no challenge.
Listen to Episode 42 on: iTunes | Soundcloud| YouTube
I first met Eustan through a mutual friend and mentor, Gair Maxwell (who you can hear in Episode 22: Reinvention & Focusing on Possibility), and recently attended an event at which each of them gave a presentation. It was immediately clear how well respected Eustan is in the business community in which he lives and works, both for the presentation he gave, and for the organization of bringing Gair and his expertise into market. It was a sold-out event that left all who attended more knowledgeable than they were when they'd arrived.
Business isn't about financial forecasts. It's about relationships.

– Eustan Matthews
Like anyone else, Eustan's story is not without its challenges. Being moved from his home country of Trinidad at an early age left him with feelings and questions he's had to carry with him since. And, like most of us, his journey has taken twists and turns and has provided opportunities for him to re-examine his path and what he can be doing to best represent his authentic self on a day-to-day basis. I think he's on to it.
Some of the key things I took away from the time with Eustan include:
Leaving Authentic Impressions – It occurred me, as I listened to Eustan speak about people in his life, how many impressions are being made and absorbed over the course of a day, a week or a lifetime. We make impressions on so many other people, both good and not as good, without even trying, and these impressions become part of our collective experience, in both how we identify ourselves, and in what we say about ourselves to others. We always have an opportunity to do our best to leave a positive impression. The reverse is also true, if we submit to a negative, lazy worldview. Keep it in mind, and perhaps also be aware how much we may be saying to others – including people we care for very deeply – without even trying to.
Invest in the Person, Not in the Business (or the numbers) – A wise choice for any business involving human beings, in my opinion. It's still the people that form the thoughts, which become habits and actions, which then produce a result. If you want better results, invest in the people who are creating them.
Positivity is a Choice – It's hard for me to imagine Eustan ever being anything but positive. He strikes me as having a genuinely kind and gentle spirit, yet I suppose I can see how his restlessness at wanting to do well may have manifested itself into frustration at times. To that end, he tells a great story about a time when he asked his wife, "Am I a negative person?" The honest answer he got to that question presented him with a choice as to how he wanted to move forward. I believe he chose well.
Here is a window into the journey of Eustan Matthews, on The No Schedule Man Podcast:
Podcast Episode Links:
RESOURCES
Connect with Eustan:
Website: www.eustanmatthews.com | 40 Coffees in 40 Days
Social Media: Facebook | Instagram | Twitter
Other Episodes You Might Like …
If you liked Eustan Matthews and his story, you'll probably like these ones:
You can find those and all archived episodes at NoScheduleManPodcast.com or on iTunes. Please subscribe and share!
Comments: Are You a Positive Person?
At a certain point, Eustan asked his wife, "Am I a negative person?" He was then confronted with the choice of whether he wanted to be more positive more of the time … or not.
Are you a positive person? Have you always been? Please add your thoughts to the Comments Section, below.

Join Me On this Creative Journey of Personal Development via Email
Special thanks to Allstage for their support of the No Schedule Man podcast!