Run Toward the Roar: Martin Reid – No Schedule Man Podcast, Ep. 39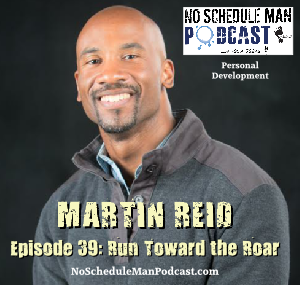 I met Martin Reid at an event in December of 2016, where he was one of a handful of featured speakers. As part of his speech, he told a story of how lions hunt their prey, and how the animal in trouble usually runs away from the lion's roar, unknowingly dashing straight into trouble, as other clever lions lay in wait for the ambush. He related that much of his personal journey had been like that: when he ran away from the roar, he'd only found more hardship. But if he could have the courage to face up to the challenge in front of him, even if it meant a deep, soul-searching level of personal responsibility, he'd be met with success.
Recipe? Run toward the roar.
When he told that story, I nearly jumped out of my seat. I just knew I had to ask Martin to join me on the podcast, and that we'd have a great discussion. He didn't disappoint.
Listen to Episode 39 on: iTunes | Soundcloud| YouTube
Martin is the creator of "Personal Victory," a fitness consulting company developed to help people determine and reach their fitness goals. He is also an Education Specialist at Life Time Athletic. On social media, he calls himself a "Tabata & Pilates Guy!"
In addition, Martin has begun to do some speaking and was featured as a contributing writer to the book "Dreaming Big Being Bold: Inspiring Stories from Trailblazers, Visionaries and Change Makers" by Paula Morand & Victoria Craig.
What's interesting is that we did not talk much about fitness, or speaking, or writing, in this discussion. Instead, this conversation was very much about:
Accountability
"Moments of Grace"
Relationships
Reinvention
Self-realization
"As it matured I realized it was more about listening than being able to figure it out and answer their questions."

– Martin Reid
Like me, Martin thought he had it all figured out and, at least initially, couldn't understand when things started to fall apart at home. As you'll hear, he's gone (going) through a personal transformation that is empowering to observe.
I'm not sure which of Martin's stories I like best. I love the one about the police officer who pulled him over, and what the result was (I actually have since told that story to my first wife's new husband, who is a Provincial Police Detective here in Ontario, Canada. He agreed: it's a touching story). I love the tale he told about the young man who came to him in hopes of achieving a "six pack," what he was willing to do (and give up) to get it, and what resulted from his effort. I also love Martin's recollections of his trip to Japan, why it brought him so much anxiety at first, and how it turned out. And then, of course, there is the whole middle section of this conversation, during which Martin shares very openly and authentically about the pain and personal transformation that came from going through separation and divorce.
"I don't have to have a massive effect. But I can make the change in one person who makes the change in one person who makes the change in one person."

– Martin Reid
This is why I do this podcast. I think people need to hear stories like this, from people like this. Martin Reid is a cheerful, chiseled powerhouse of a human being. He's the sort of person who, I think, many others look at and just naturally assume he has the world at his fingers. The fact that Martin would be so open as to share the pain and confusion of part of his journey is a testament to the kind of person he is, and a great example for the rest of us.
Some of the key things I took from my time with Martin include:
Embracing Brokenness – He tells the story of a broken bowl, and how the pieces that are glued back together are actually stronger than the other, "non-broken" parts of the bowl. I love the idea of putting flecks of gold in the glue, too.
An Evolving View of Courage – Martin gives a clear account of how his views have changed on what constitutes true nobility, strength and courage. He notes that he used to view transparency as weakness. He now knows better, and I couldn't agree with him more.
Significance of the Insignificant – This is the ripple effect. And it can work both for you or against you. Little becomes big. Whether it's a simple kind word or encouragement to someone, or more related to the story he tells of the pebbles building up into a wall, little becomes big.
Podcast Episode Links:
RESOURCES
Connect with Martin:
Social Media: Facebook | Twitter | Instagram | YouTube
Books Martin referred to:
Comments: What Animal Would You Be?
Martin views himself as a lion. I'm trying to be a turtle (click here to find out why). What animal's characteristics resonates most with you? Let us know!
Please add your thoughts to the Comments Section, below.

Join Me On the Journey of Personal Development via Email
Click to Receive Free Gifts & Exclusive Content ==> EMAIL  VIP <==
Special thanks to Allstage for their support of the No Schedule Man podcast!