Selling Scarcity | Be Real Do Better – The Small Business Marketing Show, Ep. 4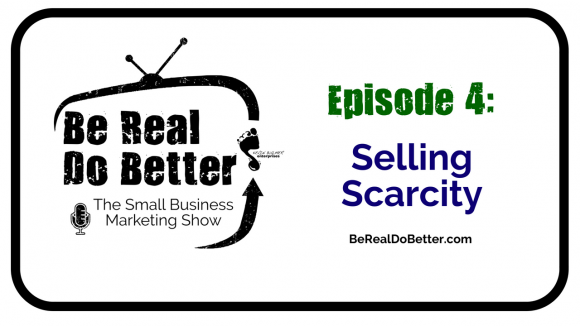 Is there anyone who honestly believes that we are ever going to run out of good deals on cars, furniture sales, online courses or any other commonly advertised product? In this episode, Kevin discusses:
– Why selling scarcity can actually contradict the rest of your message and plant the seed of distrust in your potential customer's mind.
– Why businesses use scarcity and think it's a good tactic.
– Why both advertisers and consumers are to blame for so much marketing being awash in poorly-executed scarcity and urgency selling.
Key takeaway:
Have you used, and been used by, scarcity? How does it make you feel? Put yourself in the position of the potential customer and ask yourself: would you respond to the same kind of scarcity selling and urgent messaging that you might be tempted to use in your marketing?
Listen to This Episode:
Click Here to visit iTunes & subscribe
Watch This Episode:
Click Here to visit YouTube & subscribe
---
Resources
Enter your email to get Kevin's Free PDF Guide: "Better Marketing Results in 3, 2, 1 … Go"
Or visit GetMarketingHelpNow.com
~ Get a free, personalized marketing assessment from Kevin: https://www.GearUpYourMarketing.com
~ Kevin's podcast on personal and professional growth, "Journeys with the No Schedule Man:" Click Here
Other Episodes You Might Like …
If you enjoyed this video, I'm pretty sure you'll like these ones as well:​
Join My "Turtle Tribe" Online Community
And if you're serious about cultivating a mindset that better serves your life, work and overall fulfillment, try joining my online community – The Turtle Tribe – for more coaching, support, encouragement and collaboration. To learn more and start a free 7-day trial membership, click here.