Shaping & Sharing Our Own Stories – Eric Gagne | Journeys with the No Schedule Man, Ep. 83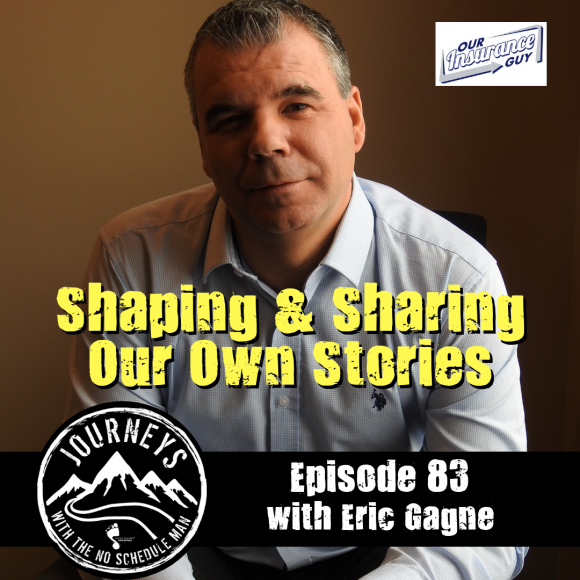 Are we shaping – and sharing – our own stories in our own way?
It might seem like an obvious question. I believe most of us would say, "Well of course. Of course that's what I'm doing."
But is it really? Or are we doing, saying, and sharing what we think we should, recreating some version of what we see from others?
Over and over again, I encounter really good, hardworking people in small-to-mid-sized businesses who are struggling terribly with what we call "social media." But what I see is not a struggle with social media. It's a struggle with self.
It's not social media's fault if we, as business owners and operators and marketers, just transfer the same noise, cliches and sales offers we used on radio and TV over to Facebook or Instagram and get frustrated when it doesn't work. A different distribution channel doesn't make a bad message better or an unrelatable approach more connectable.
Each of us has our own unique story, history, interests, values, areas of specialty and unique take on life and work. Each of us has the same opportunity to share those things and connect with the people that we are uniquely equipped to serve, in our own way.
And from here on out, whenever anybody says to me, "Oh, I could never do that," I will point to the story of this week's guest, Eric Gagne, and say, "Sure you can."
Stay up-to-date on future episodes:
Eric's story is one of professional reinvention. His adventure of exploring personal branding and building relationships on social media to connect and grow his business is so down-to-earth and relatable that I truly believe it's a worthwhile lesson for anyone involved in local marketing. If you're exploring building your own personal brand, Eric's story will be helpful.
This is also something that the heads of some larger businesses are going to need to understand. The world of communication isn't changing; it's changed. It's going to keep changing. A business' point of differentiation is going to have to include empowering the people they depend on to connect with the customers they need to make the business go and grow.
When it comes to connecting and building trust with actual human people, faceless corporate superlatives are becoming less and less effective for local businesses. It may seem like a slow turn for those of us 40 years of age and up, but it's turning, and it's turning more quickly than we might imagine because we're so stuck in our ways.
There's a certain irony here. The smartphones and social media tools that have opened up the world to us are forcing us to get to the point, and to differentiate ourselves by being ourselves in order to truly connect to people on the local level. This requires an open mind and some new learning, not just for operators like me or Eric, but for the owners, managers and executives of larger companies who rely on various individuals to forge their own relationships with customers, to everyone's mutual benefit.
Eric's story is a terrific, very real-world example of that, on both counts. Not only is Eric to be congratulated on stretching beyond his comfort zone, but Town and Country Mutual Insurance also gets my hearty "thumbs up" for nurturing an environment where that kind of win-win-win (company-agent-customer) scenario can find its way into being.
A few of the things that really stood out from what Eric shared were:
He noted how it's all a constant, never-ending process. And that's to be embraced and enjoyed.

How he matched up a new career with who he is and not the other way around (i.e., choosing a new career that might make him happy. He instead investigated his talents, interests and values – the things that made him happy – and matched a new path to it.)
Eric was clear that you won't always know what you're doing at the start. The thing to do is to start and then figure out what you doing as you're doing it. You're always learning. 

He was clear about a timeline of expectations: it takes time. It's to be viewed as an investment versus a cost, a process over any kind of event. Never mind the instantly gratified idea of "going viral." That's not how relationships are built and it's not how most day-to-day interpersonal communication goes anyway, in person or online.
Here's Episode 83, "Shaping and Sharing Our Own Stories" with Our Insurance Guy, Eric Gagne:
Stream or Download Audio:
Stream & Subscribe on YouTube:
About Eric Gagne:
Eric joined Town & Country Mutual Insurance as a Chartered Insurance Professional in early 2013, after many years working in the automotive industry. He's involved in coaching hockey, soccer, baseball, and has a passion for golf. Eric is a Past Director of the Strathroy Chamber of Commerce and also sits on the board for the London Bandits Hockey Organization.
Connect with Eric Gagne:
Website: www.ourinsuranceguy.ca
Social Media: Facebook | Instagram | Linkedin | YouTube
Other Episodes You Might Like …
Subscribe to Journeys with the No Schedule Man:
You can find those and all archived episodes at NoScheduleManPodcast.com or at:
---
Want To Continue The Conversation? Join The "Turtle Tribe" Online Community

If you're serious about the process of cultivating a mindset that better serves your ability to do your best work and live your best life, try joining my online mastermind & mentorship community – The Turtle Tribe – for more coaching, support, encouragement and collaboration.
To learn more and start a free 7-day trial membership, click here.