Sharing Vulnerability & Growing Together: Jason MacKenzie – No Schedule Man Podcast, Ep. 36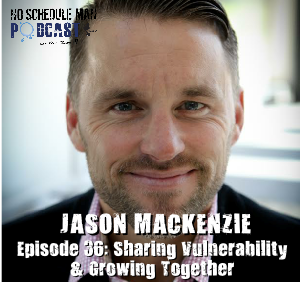 Jason MacKenzie is an author, speaker & coach who teaches people how to find the courage to create new and deeper relationships with people, including their kids.  And if they want to use those relationships to power personal and professional growth, he shows them how to do that too.
Jason and I were able to relate to each other almost instantly when we met a few weeks ago. I felt that much of his story reflected parts of my own, and I was immediately curious to learn more about his passion for exploring and sharing vulnerability. He certainly came through in this podcast discussion, offering a very honest, raw and heartfelt perspective on a journey that has been both dark and light, heart-warming and heart-wrenching. I'm convinced that Jason's willingness to openly share his experiences is going to help a lot of people.
Listen to Episode 36 on: iTunes | Soundcloud | YouTube
Jason is a survivor of his first wife's battle with bipolar disorder and subsequent suicide. He's also overcome a decade-long battle with alcohol and eventually stopped running from grief and fear, which allowed him to become the husband and father he is today.
After creating a website called "The Book of Open" to share his own gratitude journals, his efforts soon evolved into one of encouraging and empowering others to share their stories through his site. As Jason went on curating and connecting the experiences of others, the project caught the attention of Hogan Hilling, who approached him about writing a book. That turned into "The Dadly Book of Open: How Cultivating Vulnerability Makes You a Stronger, Wiser & More Courageous Father."
When you finally break free of these crazy masks you think you're supposed to wear and you connect as one human being to another, man there's nothing like it. It's the best feeling in the world.

– Jason MacKenzie
So much of Jason's story resonates very clearly with me: growing up with an idea of leading a "stereotypical" life, how he thought that "real" guys "sucked it up" and pushed their feelings down. His battle with alcohol and the way it fit into his life sounds very similar to mine, and the fact that he "woke up" to embrace and share his authentic self only fairly recently is also something to which I can relate. Perhaps you can, too.
Having said that, Jason's path has taken some twists and turns – both really, really good and completely, crushingly awful – that I have not experienced, and he describes those in a very candid fashion during our conversation.
Some of the key things to listen for include:
Growing Together – We discuss this at a few different points in the conversation, related not just to parents with their kids, but with their parents as well. As the generations turn and learn, we are all growing together.
You will know when it is time for you to know – His description of the peace and the clarity of the moment when he knew he was done drinking is a great example of how, with any large, looming issue in your life that you're not sure how to handle, you will know when it's time. You'll just know. And when that time arrives, you'll know it.
The power of vulnerability – Authentically sharing our true selves with others almost never pushes others away. It has the reverse effect: it almost always brings us closer together. When someone else shares and listens with authenticity, non-judgement and kindness, there is no greater way to deepen or create a connection with another human being. Jason has discovered this and you'll clearly hear that in this discussion.
Perseverance – He does a terrific job of describing the process of actually creating the book and what it took. Listen to that carefully because it's an important lesson for just about anything that you do in life
I've become a person who sees hope and possibilities more so than he ever has been.

– Jason MacKenzie
Here is my conversation with Jason MacKenzie on the No Schedule Man Podcast!
Podcast Episode Links:
Connect with Jason MacKenzie:

Official Website: The Book of Open
Social Media: Facebook | Twitter | Instagram | YouTube
The Dadly Book of Open is available at Amazon. Click here or on the image of the book.

Comments: What Could You Share?
What's an example of a story you could share that you think may be of help to others? Or, what was a time when someone shared something with you, and how did it help?
Please add your thoughts to the Comments Section, below.

Join Me On the Journey of Personal Development via Email
Click to Receive Free Gifts & Exclusive Content ==> EMAIL  VIP <==
Special thanks to Allstage for their support of the No Schedule Man podcast!