Soul-Centred Sales – Laurie Hawkins | No Schedule Man Podcast, Ep. 46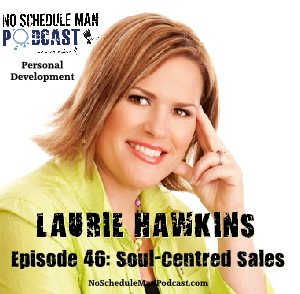 Laurie Hawkins is a certified business coach, success strategist, speaker, facilitator and founder of Hawk Inspired. She inspires business leaders and teams toward peak performance and achievement, and has walked an interesting path – both personally and professionally – to get to where she is today. I think you're going to find the story really interesting.
Listen to Episode 46 on: iTunes | Soundcloud| YouTube
Laurie has a rich list of credentials. Among them are:
– Leadership Certificate from IVEY School of Business
– Recipient of the Leaders Circle Sales Award for Top Sales Nationally
– Recipient of 10 years of Presidents Club Awards for Overachievement of Sales
– Certified Lumina Learning Practitioner
– Human Synergistics Accredited Practitioner
– Recipient of Gold Duke of Edinburough Award for Community Service
– and many, many others
Laurie knows her stuff. She's had some terrific mentors from a very young age, and has been able to repeatedly tune into her inner wisdom to navigate along the journey, which have included some big up and downs both at work and at home.
I do not want to be someone's binder on a shelf. I want to work with you on your unique issues and challenges and come up with something completely individualized and unique for you, and walk the journey.

– Laurie Hawkins
Right from the very first question I asked Laurie, I was struck by how she did not answer the way I thought she would. I was destroying my assumptions from the word "go," and I loved it. With each and every guest of this podcast, I learn a little bit more about the power of both listening and asking. You can really get to know a person when you show a willingness to listen and are open enough to the idea of letting go of your assumptions and, basically, allowing yourself to be wrong. Ironically, remaining open to being wrong can be a big help in getting it right.
I thought Laurie would tell me she came upon sales as a career much later in life, because that's what happened to me.
Wrong.
And, if you listen closely to our discussion, you'll hear me pausing a little bit longer than I normally do before asking the next question. It was because I was still processing what she'd just shared with me and was trying to decide which avenue to explore next. I loved that talking to Laurie had that affect on me, because if you can get out of your own head long enough to be genuinely curious about someone else and what they've experience, you can really learn a lot. And I get to sit with great teachers just about every week.
Another thing that I've considered a great deal since this discussion with Laurie is the incredible power of influence that we are having on the people around us. The relationship that she had with her father is is evidence of that. In that case, it certainly sounds as if her dad was (is) a keen, nurturing mentor, and looked to influence his daughter accordingly. But there are countless other ways that we influence others around us, sometimes in ways we don't intend to. I think about that kind of thing a lot actually, especially as it pertains to my kids. I do not want to poison them with my own emotional junk. But I do want to equip them to be able to be brave and authentic enough to do – if they have to – something bold like what Laurie's father did in changing his environment, or how Laurie did something similar later in life.
Clearly, Laurie's father has been a terrific influence. If my kids grow up to be anywhere close to as good a human being as Laurie is, I'll feel pretty good at the job I've done. In the meantime, conversations like this one are valuable reminders as we all try to do just a little bit better every day.
Some of the other key takeaways I took from my time with Laurie included:
Guiding vs Telling – Further to my thought about influence, Laurie gives some great accounts of her father guiding and mentoring her versus just "telling" her what to do or not do. It's a huge difference! Have a listen for that.
Service & Authenticity – The more of these podcasts I do, the more I am convinced that these are two essential elements for success in life in any form: contribution and being true to yourself. What a potent combination, and it's right there waiting for every single one of us to embrace and employ.
Human Connection – From sales techniques to the priorities of people in other parts of the world to the coming and going of technological trends, we discussed it all and agreed on one thing that applies for it all: human connection. And for a great way to initiate those connection, see the other two key takeaways, listed above.
People are aching for connection.

– Laurie Hawkins
©2017 Kevin Bulmer Enterprises
Podcast Episode Links:
Resources
Connect with Laurie Hawkins:
Website: www.hawkinspired.com
Social Media: Facebook | Pinterest | Twitter 
Recommended or Related:
Other Episodes You Might Like …
If you liked Laurie Hawkins and her story, you'll probably enjoy these episodes:
You can find those and all archived episodes at NoScheduleManPodcast.com or on iTunes. Please subscribe and share!
Comments: What's Been the Most Influential Relationship For You?
Laurie was given a great foundation for life through the relationship she had with her father. Many of the personal and professional lessons she began to learn from a very young age are still serving her well today. What has been the most influential relationship for you? Who are some of your mentors and what did they teach you?
Please add your thoughts to the Comments Section, below.

Join Me On this Creative Journey of Personal Development via Email