Step Into Life & A New Level Of Mind – Angela Kontgen | No Schedule Man Podcast, Ep. 49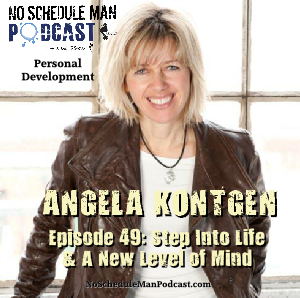 Angela Kontgen is a meditation coach and creator who helps people live life at new levels. After a decade of coaching people in all aspects of life and leadership, these days she focuses on one thing: meditation. There are a number of reasons why, and she goes over those in our conversation.
Listen to Episode 49 on: iTunes | Libsyn| YouTube
I love how Angela describes herself as being able to help people shift from "survival to creation mode" and to begin using the power of their mind to become the creators of whatever it is they wish to experience and become.
If you have ever questioned the path that you were on and wondered if there's something more, you're going to want to listen through this entire conversation.
That state of motion, that constantly doing, it served me really, really well. But at the same time, it kind of became my crutch. If I wasn't in a state of doing and a state of motion, I didn't know who I was.

– Angela Kontgen
If you are in a job that does not align with you and your values and you're not sure what to do about that, you're going to want to listen through this entire conversation.
If you've ever arrived to the point in your life, whether it be in a relationship or a career situation or with a certain habit and think, "I just can't do this anymore," make sure to listen to this episode. You are going to want to hear what Angela has to share, especially throughout the second half of this conversation.
On a personal note, I continue to be astounded at how certain people come across my path in certain times. I have been going through my own version of much of what Angela describes in this interview and, like her, have found that I am committed to growth and that that means I'm going to be continually challenging myself and moving into action on some things without necessarily even knowing why at the time. I'm not sure why, but it's always scary when you set out. The reason why I'm not sure that it's scary is that I've now done it enough times to realize that it always seems to work out. And people get put in your path that need to be there, when they need to be there.
When you embrace your mortality, you don't wait to step into your life. You don't wait for the mortgage to be paid and the kids to be grown up. You just go, 'Hey, my life is now!'

– Angela Kontgen
As I listened to Angela tell her story, I sat in absolute amazement at how many similarities there are between us, not just in general, but in terms of what she described about her life and career path and some of the things that I am going through right now.
So just as I do, I expect that you will filter what any of the guests of this show have to say through your own experience and take with you whatever applies. Try and learn from the rest. But never forget that my role in all of this is to be the ringleader, the curator. I am on my own Journey as well. My feeling about this podcast is that it's a way of inviting us all to go together. And I'm happy to be the one who reaches out and connects and asks the questions, I just hope you're getting as much out of it as I am.
Some of the key takeaways I took from Angela included:
Value of Awareness – First, there's the art of noticing that you are not noticing, and recognizing the crutch of always being in a state of doing. Second, as young people we mostly did not have an awareness to even have awareness in the first place, which is why so many of us get well into our lives and find ourselves unhappy and adorned with what Angela calls the "golden handcuffs."
The Joy of Rediscovering Yourself – Ideally, you'll never lose yourself in the first place, but Angela rediscovered her love for wellness and physical fitness, which she had largely fallen out of touch with. For me, it was music, this podcast, creative expression … what is it for you?
What to Expect Once You Decide to Forge Your Own Destiny – Angela gives a great description of this phenomenon, and it outlines why so many people never try. But if you can listen to and allow yourself to be guided by those who have gone through the fire before us, you'll see that there is, in fact, a way through.
I feel like for the first time in my life I'm not pushing a rock up a hill. I feel like there's this flow in my life. I feel like things are coming, and that's the universe saying, 'Ange, you're on the right path.'

– Angela Kontgen
Here is our conversation exploring the journey of Angela Kontgen, on the No Schedule Man Podcast:
Podcast Episode Links:
Listen to Episode 49 on: iTunes | Libsyn| YouTube
Stay up-to-date on new episodes! Subscribe here to get Kevin's free email updates.
After you confirm your subscription, you'll immediately receive an email with a free 10-page PDF on Kevin's  "4 Keys To Contentment."
---
Kevin Bulmer is the founder of No Schedule Man Brand Media, producer and host of the momondays London inspirational event series and the strategic marketing coach for Awesomepreneurs.
As a dynamic, down-to-earth and highly engaging professional speaker, it's Kevin's intention to uplift through a shared example of continual growth. He has a gift for helping people see themselves from a fresh perspective on matters related to mindset and effective marketing messaging. In both cases, it pretty much comes down to just being true to yourself … a principle which is fundamentally simple, but not necessarily easy to do.