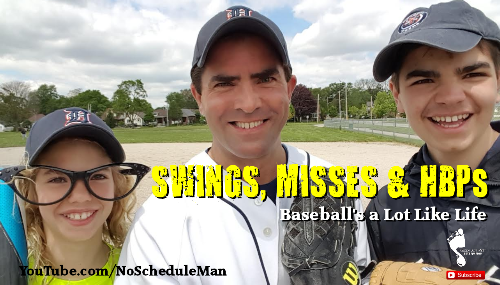 This particular blog (vlog) might be better watched than read. To do so, click the image to the right or scroll down to stream the video from YouTube, below.
This was very much a collaborative effort between me and my two best pals, my forever teammates, my sons Eddie (the coach) and Jaden (the pitcher). We planned this out together and constructed it shot-by-shot at a local park on Victoria Day in May of 2017. It was a ton of fun to put together and we hope you like it!
If you'd rather read than watch, here's the transcript:
It's almost summertime. It's as good a time as any to remember that life is a lot like baseball, and today I've got some help to show you how. Bonus points if you can catch the movie references!
Join me on the journey: YouTube Subscribe | Mailing List
Just like in life, in baseball, you've got to be willing to step up to the plate, get into the batter's box if you want to have a chance to win. Remember – that that's going to make you vulnerable, but it also means possibility. Something else to keep in mind, the best team, the one that wins the championship, the whole thing, is still going lose roughly 70 times in the course of that one year alone, and in order to be considered one of the best hitters in the game, you're still going fail roughly seven out of every 10 times at the plate.
There's an old saying that says, "You miss 100% of the swings that you don't take." So, like in baseball, as in life, you may as well step up to the plate, get into the batter's box and take your chances. That just means that you're going to have to accept that a few different things can happen as part of the process along the way. Let me give you an example.
Pitcher (Jaden): "Are you ready, Meat?"
Kevin: "Go ahead."
[Pitcher throws and it's a wild toss]
Coach (Eddie): "Just a bit outside. Try the corner and missed."
Kevin: "Jeez, somebody teach this kid some control before he kills somebody."
[Coach walks to the mound, gives the pitcher some glasses]
Coach Eddie: "Here, these will help."
Kevin: "Not every pitch you throw is gonna be a strike. You've gotta adjust there, too. (to the pitcher) You ready?"
Coach Eddie: " Step in there, Bulmer! Get the bat off your shoulder!"
Kevin: "Straight balls I hit very much. Curve balls, bats are afraid."
Coach Eddie: "Bulmer, look for the signs!"
Kevin: "And even when you look for help, the signs can be confusing."
[Coach gives signs from third base]
Kevin: "And just when you think you've got it finally figured out, you'll find life is full of surprises."
Pitcher (Jaden): "Here comes the Terminator."
[Pitch hits Kevin in the ribs]
Coach Eddie: "Shake it off, Bulmer!"
Kevin: "Even when you're scared, you just gotta keep swingin'. (To Pitcher): Okay rookie, let's see that stuff again."
[Pitcher throws it, Kevin hits it & trots around the bases]
Kevin: "Always remember, it's all supposed to be fun, baseball or life. After all those swings and misses, trials and struggles, we're all just trying to get back home."
Coach Eddie: "Wait, aren't we supposed to be trying to get to third base?"
Kevin: "That's a different game altogether, son."
Come along on the journey! SUBSCRIBE to my YouTube Channel and join my mailing list for updates.