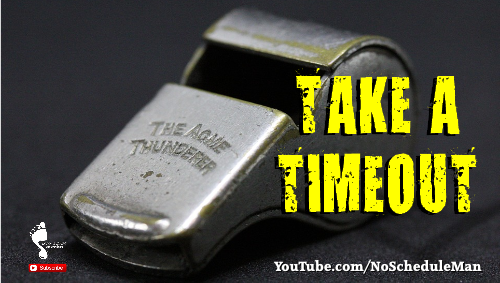 Transcript: I just took a couple of minutes to record some footage for a video for the YouTube channel. And as I'm on my way back to my car getting ready to go back to work, so to speak, I was just thinking that I would take you with me on the journey and talk for a second about getting out on a day like this.
Walk With Me: YouTube Subscribe | Mailing List
By the way, look at this blue sky! This is Ontario, Canada, in October, just about Thanksgiving. I wanted to talk about taking a minute to enjoy stuff like this, even if it's just a couple moments in the middle of the workday, because I'm reminded of a time earlier in my career; I was the General Manager of a stock car racing track, of all things, a place called Delaware Speedway.
At that time, there were a number of different individuals that were all partners as owners of the race track, and one of them, a guy named Dave, used to tell me, "Kevin, sometimes you need to just leave it all. Just get up and walk around a little bit."
Well, I understand now that the person that didn't get it, is me.
I remember actually taking offense to that. I thought, 'Here's this guy who comes in for the occasional meeting and doesn't live here, 'cause he would come in from a different city, and doesn't understand what the day-to-day is like, and doesn't understand how much I have to do, and how much stress I'm under, and how much pressure there is, and how hard I'm trying to work to be able to make his business go, and he's telling me just sometimes get up and leave it and just go for a walk, just get outside and get away from it.'
And I remember thinking and being absolutely sure that I was right, thinking, 'Dave you don't understand, you don't get it, do you? I've got stuff to do! What I'm doing is important and I've got a lot of stress and I've got a lot of responsibility and I need to get at it. I don't have time to go out for a walk.'
Well, I understand now that the person that didn't get it, is me. You have got to make time to get out, get some fresh air and get away, you'll get twice as much done once you go back to it, which I'm going to do now.
Get out and take a break!
Come along on the journey! SUBSCRIBE to my YouTube Channel and join my mailing list for updates.