The Art of Being There & Value of Human Connection: Jim Cressman – No Schedule Man Podcast, Ep. 28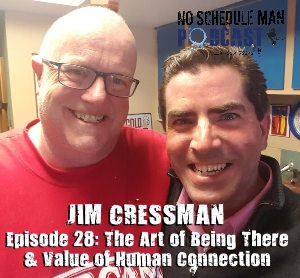 Jim Cressman is a professional baseball umpire and retired sportswriter. He still umpires and has been doing so for over 50 years.
I know Jim best as a sportswriter. For decades, Jim covered sports for the London Free Press, the daily paper in the city where we live. He was responsible for all kinds of topics, including the old London Tigers baseball team we enjoyed here for a time (an Eastern League AA affiliate of the Detroit Tigers), the London Knights of the Ontario Hockey League, all kinds of major league sporting events, and even auto racing coverage out at the stock car track near here called Delaware Speedway, where I worked in various capacities for about a decade and where I got to know Jim best.
Listen to Episode 28 on: iTunes | Soundcloud | YouTube
Listening to Jim talk about how they used to get stories written and submitted to the newspaper is a whole lot of fun. If you have any interest at all in news media, journalism or reporting, you'll love it.
Umpiring, on the other hand, took Jim to the Olympics and other international events, as well as through baseball's minor leagues. Had work visas been more readily available, Jim may never have been a sportswriter to begin with, as it's likely he would have ended up as an umpire in the major leagues. We discuss that, too.
Some of the key steps in the journey that I took away from my time with Jim included:
Perspective. Whether it's with writing or umpiring or anything else, we're all looking at life through a different lense. That fact alone can explain a lot of "taken out of context" complaints.
What you love most seems to stay with you. In Jim's case, it's umpiring, and an appreciation for sharing new experiences with other people.
The art of actually being there & the value of human connection. These two things put together answered some questions I'd had about Jim for years, like how come he's not written a book or started a blog? The answers emerge in this discussion.

The more I do this "No Schedule Man Podcast," the more I want to do it. Here I've known Jim for around 15 years, and yet I'm surprised by how much I didn't know about him, and this was just one conversation! But the act of sitting and talking and truly listening to someone without any goal other than to really hear what they're saying is a tremendous gift. I realized that I'd only ever visited with Jim in little bits and pieces, and that there is real joy in just setting aside time to enjoy each other's company. I can see that I'd be better served to keep that in mind, rather than floating from interaction-to-interaction as I race around trying to get the "next thing" done.
I like to say that "No Schedule Man" reflects the idea of the journey being the destination, and that "No plan is all part of the plan." Jim's story reflects both of those ideas really well, up to and including what he says when I ask him what he may want to do next. Enjoy it!
Podcast Episode Links:

Stay Up-To-Date & Receive Exclusive Content as an Email VIP
Click Here ==> EMAIL  VIP
Special thanks to Allstage for their support of the No Schedule Man podcast!