The Co-op Trap | Be Real Do Better – The Small Business Marketing Show, Ep. 22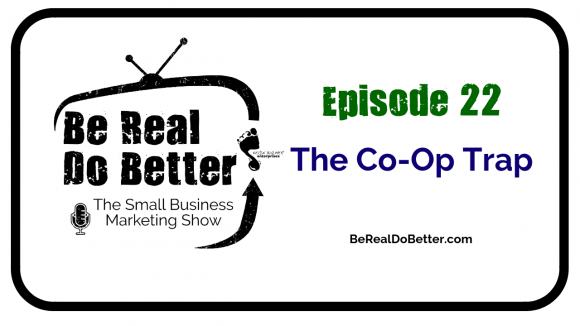 When somebody else pays part of your advertising bill, that's a great thing, right?
Maybe.
For some, it's a trap that paints them into a corner, dilutes their own unique message, character and culture and creates the illusion of "getting the word out" more effectively than it actually does. And now more than ever, that matters. A lot.
It used to be that small-to-midsize businesses had to struggle and scrap for more "awareness" and "impressions." But those old ideas have had their day. That approach, and why it's no longer the most effective route, can be summed up in one simple word: noise.
Not so long ago, he or she who made the most noise won. It presented a false idea of legitimacy and credibility when we could dominate our local airwaves, even if the message was largely inauthentic and gimmicky. That game has changed. People don't have to listen to the noise anymore. They have too much choice. And if what we're doing is making noise and trying to "out-impression" everyone else, we're working a lot harder – and spending a lot more – than we have to.
It's connection that matters now, and when we hand the reigns of our message over to someone – or something – else without ever taking the time to tell our own story in our own way and build lasting relationships, we're spinning our wheels. We may complete some transactions, but that won't sustain and scale itself like connection will.
In a lot of cases, co-op makes connection a challenge. For many private businesses, it's an easy marketing trap. But it shouldn't be a trap. It should be fuel. Whether it propels you or pulls you back depends entirely on how you use it.
Like awareness and impressions, it used to be that being attached to a big brand lent an immediate air of legitimacy to a local business. That may still be the case to some extent. But it's changing. Consumers no longer have to put up with shoddy service, ineffective products or broken promises. There are simply too many other choices available that are easily accessible and affordable.
So you sell Ford or Chevrolet or Toyota, or Pandora or John Deere or Yamaha (or whatever the case may be). So what? I can get that stuff anywhere now. Click-click-done. Why would I buy from you?
If this sounds harsh, either get over it or get left behind. There are going to be more choices coming, not less.  If you're putting your message almost entirely in the hands of your manufacturer, in my opinion, you're selling yourself short and watering the seeds of redundancy.
In this episode:
– A quick overview of co-op (or "co op") , what it is, to whom it applies and why the principles are worth considering, even if you don't currently represent a specific product or manufacturer.
– A few examples, such as jewelry, cars, tool companies and "power sports" dealers
– The danger of too much co-op messaging = industry jargon that means little (or nothing) to anyone but you and the manufacturer you represent.
– The "Magic Weapon" that almost no one in co-op categories are using effectively yet! 
Some Key Takeaways:
– Use the available space around the co-op specifications to let people know what the products do and, more importantly, why it might matter to them.
– Create some non-co-oped space to tell your own story in an interesting and engaging way.
– Consider what happens when the product you represent changes? What if it goes south, even for a short period of time? If you've put all your eggs in the product brand basket, why would people continue to come to you? I've shared a real example of this, in the episode, of a local business that almost went under while their manufacturer took its sweet time catching back up to an industry that had surpassed it with more appealing products and pricing. During that time, this business survived – barely – on service.
– Try this exercise: Want to see if your message is infected with co-oped industry jargon? Swap out the product names with the name of a Star Wars robot and see how it reads. I'm serious. Because, to people who do not know your brand in-and-out, your product names mean little (or nothing) to them. You may as well call your "IS300" or "Canyonero" an R2D2 or C3P0.
Remember: what something's called doesn't matter to people as much as what it does. And more specifically, what it does for them, and why they might care.
Stop making noise. Start creating connection
Click Here to visit iTunes & subscribe
Watch This Episode:
Click Here to visit YouTube & subscribe
---
Resources
Enter your email to get my Free PDF Guide: "Better Marketing Results in 3, 2, 1 … Go" and stay up-to-date on future shows and marketing help:
For my podcast on personal and professional growth, "Journeys with the No Schedule Man," Click Here
Recent Episodes You Might Like …
If you enjoyed this video, I'm pretty sure you'll like these ones as well:​
Join The "Turtle Tribe" Online Mastermind & Mentorship Community

The Turtle Tribe is Kevin's online mastermind, mentorship and creative collaboration community. It's a place to explore and embrace the process of your own personal and professional growth, from your own space and at your own pace.
To learn more and start a free 7-day trial membership, click here.