The Process Of Overnight Success – Greg Schinkel | Journeys with the No Schedule Man, Ep. 70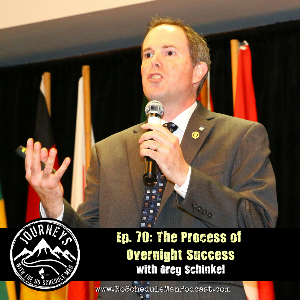 How long are you willing to work for "overnight success?" And once you think you've found it, how can you be sure?
This week we're joined by Greg Schinkel, President of Unique Training and Development, author and Certified Speaking Professional. Greg's story is a clear example of the value and reality of process, in business and in life, and what it really takes to become a great leader and to have any chance at becoming what we might refer to as an  "overnight success."
Stay up-to-date on future episodes:
Through Unique Training and Development, Greg and his team offer front line leadership training for business managers, team leaders and supervisors. They help with a variety of core topics including the expectations of a front line leader, leading by example, motivating and engaging employees, effective communication, leading change, managing conflict, correcting unacceptable behavior in performance and many more.
Greg has vast experience to draw upon and the first-hand perspective of someone who has helped lead a number of businesses through positive change while having to navigate his own personal and professional challenges along the way, as we all do at some point.
In addition to his work with Unique Training and Development, Greg is a Certified Speaking Professional. He is the author of "What Great Supervisors Know," and co-author of "Awakening the Workplace" and Employees Not Doing What You Expect," which reached number two on the Globe and Mail business bestseller list in May of 2010. Greg is also the author of The Leader Feeder Podcast which can be found on iTunes.
People are too quick to give up on something. Keep doing something long enough to have some residual impact.

– Greg Schinkel
Greg's story and his experiences will be relatable and valuable to anyone trying to discover and maintain a path to sustainable success.
Among the key things I took away from my time with Greg include:
How the art of Business Development has changed. In a lot of cases anymore it's about making an emotional connection. People are looking for helpful content as evidence of experience and expertise. In other words, it's much more about how you make people feel that may open the door to opportunity.
The downside to a "Grow-At-All-Costs" strategy. I've often wondered about this, as I've never really understood why a business or location would promote themselves as the "fastest-growing" anything. By its very nature, that's a bubble that has to burst at some point. It's not a long-term strategy upon which one may rely. Greg gives a very clear and personal example of why this is the case.
The importance of a feedback loop and the willingness to be open to asking for and accepting help. Greg said he thought he had to solve all the challenges on his own. I can relate. He found out differently and also discovered the incredible value of the different perspectives offered by consistent and constructive feedback.
The upside of adversity. Once you have gone through the fire, your mindset changes somewhat after that, mostly to your advantage. 
What to look for in leadership and the truth about people who are abrasive or aggressive.

Greg provides some valuable perspective on how to evaluate the leadership traits in your organization and also outlines some interesting experiences when it comes to the truth about people who are the most outwardly aggressive and what is, most likely, actually going on inside of them.

Change as a process rather than an event. Training is an event. But real change is a process.
Here is Greg Schinkel sharing a true story about leadership in business and what it really takes to be an overnight success on Journeys with the No Schedule Man!
Podcast Episode Links
Listen to this episode on: iTunes | iHeart Radio | Libsyn| Stitcher | YouTube
Learn more about Greg Schnkel:
Website:  www.UniqueDevelopment.com
Social Media: Facebook | Twitter | YouTube
Podcast:  The Leader Feeder
Other Episodes You Might Like …
If you enjoyed the story in this episode, I'm pretty sure you'll like these ones as well:​
You can find those and all archived episodes at NoScheduleManPodcast.com, iHeart Radio, iTunes, Stitcher, YouTube and on Google Play Music.
Please leave a comment, subscribe and share!