The Story of Cafezia Coffee – Natalie White | Journeys with the No Schedule Man, Ep. 99
How well do you feel you know who you really are … and are not?
A strong sense of self awareness is always a good idea, but it's not just a character trait of the emotionally mature. It's an essential component of running a successful business.
Awareness, values, curiosity and consciousness are all themes that ran through what Natalie White, owner of Cafezia Coffee, shared in this lively conversation.
Want to take it "to go?" Here's where to find us:
Among other things, we discussed:
~ Why does Natalie do what she does?
~ How did she know what was the "right" fit for her?
~ How did she get started?
~ What are the hardest parts of growing a business?
~ How has she overcome the challenges?
~ How often does "Imposter Syndrome" creep up?
~ What are some of the most fulfilling parts of what she does?
~ What exactly is Cafezia, why is it different from other coffee and what makes her so passionate about it?
Natalie shares about all that and several other topics as well, in this fantastic discussion about her adventures in growing the business of Cafézia Coffee.
To connect with Natalie and learn more about Cafezia Coffee, visit http://www.cafezia.ca
This episode of "Journeys with the No Schedule Man" is presented by:
Listen, Watch and Subscribe to "Journeys with the No Schedule Man"
You can find those and all archived episodes at NoScheduleManPodcast.com or at:
Stay up-to-date on new episodes!
Subscribe here to get Kevin's free email updates & his "Letters from the Little Engine."
After you confirm your subscription, you'll immediately receive an email with a free 10-page PDF on Kevin's  "4 Keys To Contentment."
---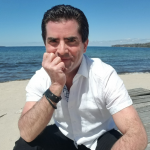 Kevin Bulmer is the founder of No Schedule Man Brand Media, producer and host of the momondays London inspirational event series and the strategic marketing coach for Awesomepreneurs.
As a dynamic, down-to-earth and highly engaging professional speaker, it's Kevin's intention to uplift through a shared example of continual growth. He has a gift for helping people see themselves from a fresh perspective on matters related to mindset and effective marketing messaging. In both cases, it pretty much comes down to just being true to yourself … a principle which is fundamentally simple, but not necessarily easy to do.
Join Kevin's private online mindset & marketing coaching community, "The Turtle Tribe" here: www.theturtletribe.com