The Story of Zen'za Pizzeria – Wayne & Jocelyn DeGroot | Journeys with the No Schedule Man, Ep. 101
This is really a love story.
Love of what we do, how we do it … and of each other.
Zen'za Pizzeria in London, Ontario, Canada is one of those all-too-rare, very special kinds of places that warm your spirit the moment you pass through the doors.
It's more than the food, though that's part of it.
It's more than the design of the place, though that's part of it too.
It's a lot about the people who created it, the circumstances that led to its creation and, in fact, the coming together of those two people in the first place.
We talked about all of that and more with Wayne DeGroot and Jocelyn Morwood-DeGroot in Episode 101 of "Journeys with the No Schedule Man."
Want to take it "to go?" Here's where to find us:
Among other things, we discussed:
How the two of them connected and what told them each that the connection was to be trusted and explored.
Why they decided to go into business together (and why it was the pizza business).
How they've helped each other grow, individually and as a team.
Some of the challenges they've met in the journey of bringing Zen'za Pizzeria to life.
What the reality of life is like when you run your own restaurant.
How and why Zen'za is such a terrific example of authentic, magnetic marketing.
Big visions vs. moment-to-moment details and how they can both compliment and (at times) distract from each other.
Connect with Zen'za Pizzeria on Facebook here and/or on Instagram here.
This episode of "Journeys with the No Schedule Man" is presented by:
Listen, Watch and Subscribe to "Journeys with the No Schedule Man"
You can find those and all archived episodes at NoScheduleManPodcast.com or at:
Stay up-to-date on new episodes!
Subscribe here to get Kevin's free email updates, "Letters from the Little Engine."
After you confirm your subscription, you'll immediately receive an email with a free 10-page PDF on Kevin's  "4 Keys To Contentment."
---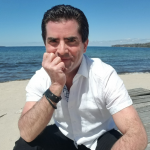 Kevin Bulmer is the founder of No Schedule Man Brand Media, producer and host of the momondays London inspirational event series and the strategic marketing coach for Awesomepreneurs.
As a dynamic, down-to-earth and highly engaging professional speaker, it's Kevin's intention to uplift through a shared example of continual growth. He has a gift for helping people see themselves from a fresh perspective on matters related to mindset and effective marketing messaging. In both cases, it pretty much comes down to just being true to yourself … a principle which is fundamentally simple, but not necessarily easy to do.
Join Kevin's private online mindset & marketing coaching community, "The Turtle Tribe" here: www.theturtletribe.com