"Think Of Yourself" (Song Blog Demo, Vol. 3)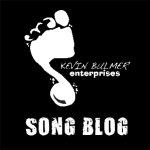 This is one of many, many songs I wrote a long time ago but have no audible record of until now. Other than an almost 20-year-old printed lyric sheet (shown in this video), the song has only ever existed in my head. I can't even find a computer file with the lyrics. This "Song Blog" project is meant to capture and preserve some of these creation before they are lost to time. And so I thought I'd give it a whirl.
I should make note that this is the first song I've demoed with a version of Cubase software that I purchased last fall. All others have been done with a digital 8-track recorder. I want to force myself to learn how to use the Cubase software so that I can apply it for my Mutineer project, so this is a way of forcing me to learn it, bit by bit. If you're curious, you can see how I created this demo one Sunday afternoon in about an hour and a half in the"Making of" Video, available at this link or by watching, below.
About the Song
The tune itself is a curious little number. Almost two full decades have passed since I wrote it, and so it's interesting to me to revisit it and wonder what I may have been thinking at the time. I remember wanting the very simple melody to have a kind of cyclical feel, like a carousel going round and around but never getting anywhere, and at a gentle pace so that it could serve as an ironic backdrop for what are, essentially, some pretty pointed lyrics. It was meant to convey how completely "normal" we think it is for people to be selfish and ignorant, I suppose. Clearly I was frustrated by someone or something at the time.
I'm not really sure what to think of this song now. It's almost a little confrontation for my current tastes, despite its light acoustic feel. But it also holds a measure of "keeping to the high road" in the face of some kind of perceived ignorance or oppression.
I don't much care for the line, "How you gonna cope when at my mercy?" That's not something I would think or write today. But I was thinking it then, and I suppose there are worse ways to channel your frustration than through writing a song.
What do you think? As always, your comments are most welcome here or on any of our social channels. Thanks for reading and listening!
Song Blog, Vol 3: "Think Of Yourself"
© 1997 Kevin Bulmer Enterprises
Written by Kevin Bulmer (SOCAN)
Stream the song on SoundCloud
Watch the lyric video on YouTube (or watch below)
LYRICS:
Here we go around
Do this dance again
Here I am again
A marionette
There you go again
Tie my hands again
You haven't heard the last of me yet
What if I surprise you with ignorance?
How would you react to yourself?
What if you find intelligence?
What the hell would you think of yourself?
That would never be
Yeah I know it won't
What I never see
Is what I never get
So you laugh the last time
You always do
But I am not without humour yet
What if I surprise you by passing by?
How would you react to yourself?
How you gonna feel as I wave goodbye?
What the hell would you think of yourself?
I am holding hope now
You're holding fear
That will surely spell your unrest
Life's a little lonely
Below the clouds
I haven't thrown my wings out just yet
Suddenly you are looking up at me
How would you react to yourself?
How you gonna cope when at my mercy?
What the hell would you think of yourself?
Think of yourself
Think of yourself
Think of yourself
You just think of yourself