Using Your Own Voice | Be Real Do Better – The Small Business Marketing Show, Ep. 11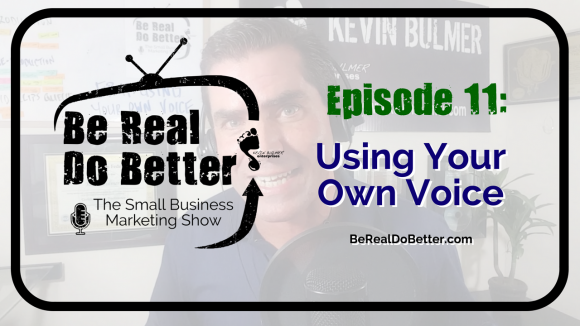 On air and online, should we be using our own voice and showing our own face?
Absolutely.
With two exceptions:
1. If the thought of being seen or heard genuinely causes you major anxiety, I would never ask you to just "suck it up and do it." I'll leave it up to you to decide whether it's something that just feels a little beyond your comfort zone or if it's well and truly something you need to avoid for your own well being. If it's the latter, respect that.
2. If you're just going to go in front of people and spout out the same old copycat, empty cliches and most other marketers use, you may as well let someone else do it. Putting your own voice to it adds a little credibility and personality, but if it's still just, "check it out, don't miss out, hurry in today, we're a name you can trust," I'm not interested. I'm already hearing and seeing that from everybody else.
In this episode, we cover:
– What we generally tend to compare ourselves to, and how that doesn't often match up with what we, as human beings, actually find most relatable.
– An example of how it can work out really well when you do not sound and look like a "professional" when it comes to how your ads look and sound.
– An example of something to keep in mind to keep your message consistent between different media platforms.
Key Takeaway:
Even if you don't feel comfortable using your own voice or showing your own face (i.e., being "real," being yourself), look for ways to at least try and make your marketing and outreach more personal. Trying inviting me instead of ordering and commanding me.
Try writing a social post or a radio script in a way that you might actually speak to someone about what you do instead of how you think it's supposed to look or sound.
Try being real about it. Be more of a human and less of an "advertiser." If you do, you'll notice two things right away:
1. It's more difficult than it sounds.
2. You'll stand out almost instantly because just about no one else is doing it.
Click Here to visit iTunes & subscribe
Watch This Episode:
Click Here to visit YouTube & subscribe
---
Resources
Enter your email to get my Free PDF Guide: "Better Marketing Results in 3, 2, 1 … Go"
Or visit GetMarketingHelpNow.com
~ Get a free, personalized marketing assessment from Kevin: https://www.GearUpYourMarketing.com
~ Kevin's podcast on personal and professional growth, "Journeys with the No Schedule Man:" Click Here
Other Episodes You Might Like …
If you enjoyed this video, I'm pretty sure you'll like these ones as well:​
Join The "Turtle Tribe" Online Mastermind & Mentorship Community

The Turtle Tribe is an online mastermind, mentorship and creative collaboration community for Entrepreneurial Underdogs. It's a place to explore and embrace the process of your own personal and professional growth, from your own space and at your own pace.
To learn more and start a free 7-day trial membership, click here.