What Does "More" Mean? | Be Real Do Better – The Small Business Marketing Show, Ep. 5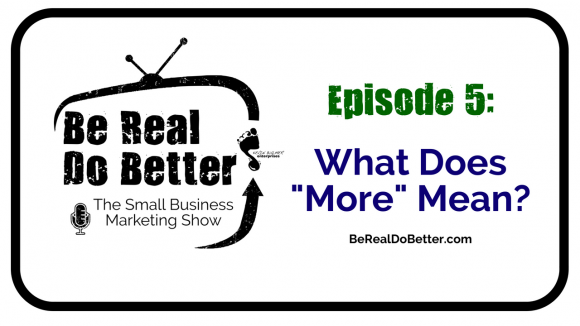 Do you have a specific plan for growing your business and method to periodically measure and adjust that plan, or are you just "riding by the seat of your pants," hoping things will get better?
In Episode 5, we cover:
– An example of a typical conversation between a small business owner or manager and a local advertising rep.

– An example of an exercise to think through before ever inviting an advertising rep into your business or considering any other advertising pricing.
– Why ad pricing doesn't matter if you don't know what your goal is, what your numbers are, and what it will mean to your business as you execute your plan and begin to climb toward your goals.
Key takeaway:
How quickly and clearly can you state what "more" means to you? In other words, what is your goal for the week, month, year or next 5 years? Let's suppose you're advertising "works." What will that mean to your business? How will that affect you?
Listen to This Episode:
Click Here to visit iTunes & subscribe
Watch This Episode:
Click Here to visit YouTube & subscribe
---
Resources
Enter your email to get Kevin's Free PDF Guide: "Better Marketing Results in 3, 2, 1 … Go"
Or visit GetMarketingHelpNow.com
~ Get a free, personalized marketing assessment from Kevin: https://www.GearUpYourMarketing.com
~ Kevin's podcast on personal and professional growth, "Journeys with the No Schedule Man:" Click Here
Other Episodes You Might Like …
If you enjoyed this video, I'm pretty sure you'll like these ones as well:​
Join My "Turtle Tribe" Online Community
And if you're serious about cultivating a mindset that better serves your life, work and overall fulfillment, try joining my online community – The Turtle Tribe – for more coaching, support, encouragement and collaboration. To learn more and start a free 7-day trial membership, click here.