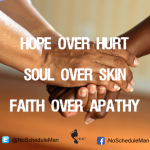 One of my favorite books is Captain Blood by Rafael Sabatini. There are many quotes from that character that I have enjoyed and carried with me over the years. One of my  favorites is actually from the sequel ("Captain Blood Returns") when Captain Peter Blood says, with some measure of disdain, "To gain alluring objects men are always ready to take chances, ready to believe what they hope."
It is with that quote in mind that I have felt ever since that the word hope can be used in more than one way. And often, it is employed in a fashion that is not very empowering at all. Indeed, I believe this is what the good Captain was referring to in Sabatini's work.
In this video, I talk a little bit about the difference between an empowering use of the word and one that does not carry much momentum with it.  Here's how to immediately tell the difference between the two:
Now, Captain Blood was a very confident individual. Disarmingly so. It drove the bad guys nuts, how calm, considered and confident he was, no matter what was going on around him. That trait is reflected in another of my favorite passages of the original book, in which Captain Blood is described as being, "Very self-sufficient; adversity had taught him so to be."

Self-sufficient. Empowered. Prepared. Optimistic. Determined. And unwilling to accept the idea that anything but the best good will eventually be the ultimate result. And all of that coming after considerable adversity (you'll just have to read the book if you want the rest of the story).
"To gain alluring objects men are always ready to take chances, ready to believe what they hope." Yep, and that almost never works, because it's little more than a wish with nothing but negativity propelling it.
Try going forward with desire and reasonable confidence instead. That's hope.

If you're looking for something uplifting, try listening to my song "Hope Over Hurt." You'll find it on the YouTube channel and you can download the mp3 from iTunes here.