What Is "Content?" | Be Real Do Better – The Small Business Marketing Show, Ep. 15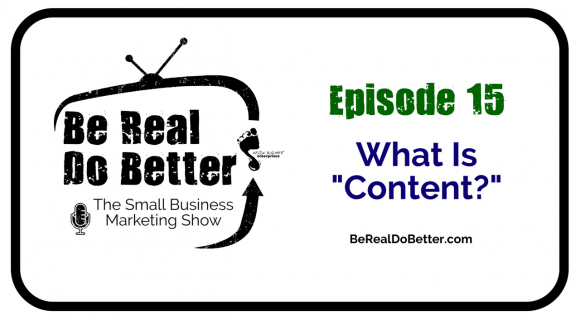 This used to be easier. As small business owner/operators, we used to just look for opportunities to "advertise." And there's still that. Except, there's also this other word that keeps getting tossed around:
Content.
What exactly does that mean? And more specifically, what does it mean to someone operating a small business, community group or non-profit organization?
In this episode, I share a little bit about what I feel content is, including:
– Some simple, traditional examples to give it some context.
– Why content is very different from typical advertising sales offers.
– Two great options for anyone looking to leverage content to build their business: creating it or curating it … or both.
Key takeaway:
See if you can brainstorm some examples of things that you could be sharing in addition to (or in place of) your standard lineup of sales offers and call-to-action commands? What stories can you tell? What photos could you share? What (very simple) videos could you shoot and share that will, over time, build more of an emotional connection with the people you're in business to serve?
Do you know of a great content creator or curator who has made that work well for them in their small business? Share it in the comments!
Click Here to visit iTunes & subscribe
Watch This Episode:
Click Here to visit YouTube & subscribe
---
Resources
Enter your email to get my Free PDF Guide: "Better Marketing Results in 3, 2, 1 … Go"
~ For Kevin's podcast on personal and professional growth, "Journeys with the No Schedule Man:" Click Here
Other Episodes You Might Like …
If you enjoyed this video, I'm pretty sure you'll like these ones as well:​
Join The "Turtle Tribe" Online Mastermind & Mentorship Community

The Turtle Tribe is Kevin's online mastermind, mentorship and creative collaboration community. It's a place to explore and embrace the process of your own personal and professional growth, from your own space and at your own pace.
To learn more and start a free 7-day trial membership, click here.