What Real Leadership Looks Like – Loretta Smith | Journeys with the No Schedule Man, Ep. 85
Wha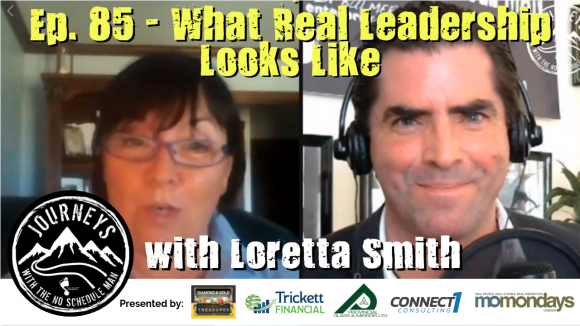 t does real leadership look like? How can we all be better leaders, at home and at work?
That's what we discussed here with Loretta Smith on Episode 85 of "Journeys with the No Schedule Man."
As the founder and President of Genesis Executive Management Inc., Loretta is a respected business strategist, a problem solver with international experience and a dynamic leadership coach.
Loretta is known for her integrity, candor and broad vision – and for always asking the tough questions that help business leaders to embrace the courage to lead.
Want to take it "to go?" Here's where to find us:
Among other things, we discussed:
~ What effective leadership looks like.
~ The two main jobs real leaders have.
~ Taking ownership & individual leadership.
~ The Key principles of leadership.
~ Accountability vs. Apathy (aka, 'There's nothing I can do.")
"Journeys with the No Schedule Man" is presented by:
Listen, Watch and Subscribe to "Journeys with the No Schedule Man"
You can find those and all archived episodes at NoScheduleManPodcast.com or at:
Stay up-to-date on new episodes!
Subscribe here to get Kevin's free email updates.
After you confirm your subscription, you'll immediately receive an email with a free 10-page PDF on Kevin's  "4 Keys To Contentment."
---
Kevin Bulmer is the founder of No Schedule Man Brand Media, producer and host of the momondays London inspirational event series and the strategic marketing coach for Awesomepreneurs.
As a dynamic, down-to-earth and highly engaging professional speaker, it's Kevin's intention to uplift through a shared example of continual growth. He has a gift for helping people see themselves from a fresh perspective on matters related to mindset and effective marketing messaging. In both cases, it pretty much comes down to just being true to yourself … a principle which is fundamentally simple, but not necessarily easy to do.