I Used to Have a Bunch of
If you want to know who I really am, here's a little of what's real about me:
Tthat was here more because I thought it was what people might expect as opposed to it being the way I might actually talk to someone.
If you're looking for my resume, labels, titles or list of accomplishments (aka, "blah, blah, blah"), please go ahead and visit my Linkedin profile.
The No Schedule Man … 
I have two sons, Eddie & Jaden. They are my heroes, most trusted advisors and first priority. Always.
I adore my family. I am a 100% Mama's Boy and I still want to be like my Dad when (if) I grow up. I have two sisters who are each incredible, strong women. One lives in Newfoundland and the other in the Northwest Territories, which I think is very cool.
My creative heroes are Walt Disney & Jimmy Buffett. Nobody understood what those guys were doing. They still don't.
I am passionate about the music that lights me up and my favourite band will forever be a group called Extreme. I am irrationally attached to them and their music. I sometimes wonder if I have a subconscious commitment to be as widely misunderstood as they are.
I don't care about sports the way I used to, but I grew up listening to Ernie Harwell broadcasting Detroit Tiger games on 760 WJR, so I will always keep a loving eye on them. I also follow the scores of the Toronto Maple Leafs & Miami Heat.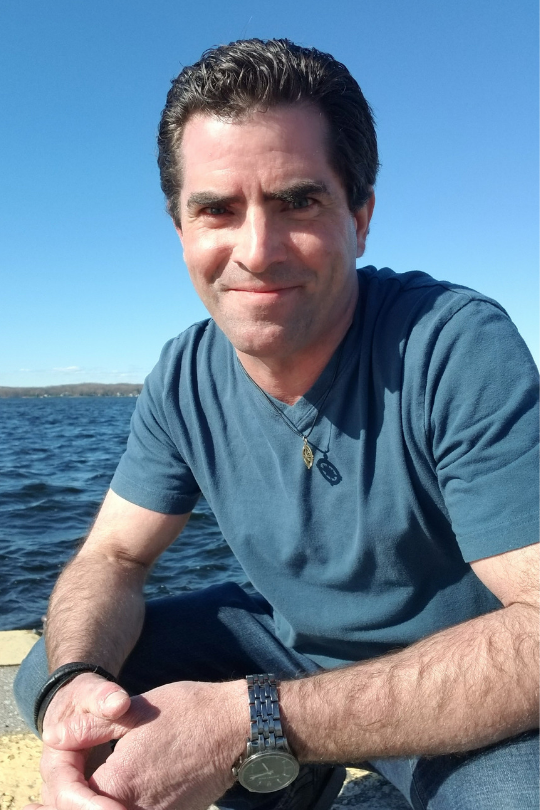 Movies? I love the Back to the Future films. Other favourites include Rocky Balboa & Field of Dreams. I cried at the end of Coco. And Soul.
I love to read. I usually have a couple of books going at a time (one in the morning and one at night) and enjoy listening to audio books or podcasts if I'm making a meal or doing laundry or mowing the lawn. I actually do this to a fault.
If I had to choose a last meal, it'd probably be a cheeseburger of some sort. Although, my sweet Caroline makes a lasagna that is very difficult for me to stop eating once I start.
I'm totally into all kinds of things I used to think were stupid. Some examples: meditation, yoga, affirmations, mindfulness, spirituality, goal-setting … and drinking ridiculous amounts of water every day.
I have two middle names: William and Stewart. They are grandfathers' names and I'm proud to have them.
"I don't really watch TV unless its a Leafs hockey game with Jaden.
Things I still have sentimental attachments to, since I was a little kid: Mr. T, Kermit the Frog (I used to call him "Kurt the Throg"), Han Solo, Bugs Bunny, Popeye and the Millennium Falcon.
Whenever I see a red cardinal, I feel it's my Grandma Newkirk's spirit.
I don't have a favourite colour or number and I don't think I'm superstitious.
The book "Conscious Living" by Gay Hendricks changed my life.
"Ask and It Is Given" by Abraham, Jerry & Esther Hicks changed it again.
"Becoming Supernatural" by Dr. Joe Dispenza changed it for a third time, along with Wim Hof, who has me breathing deeply, taking cold showers and jogging through the snow … and enjoying it.
Okay, I lied. I like black (does that count as a colour? Okay … blue is second).
I have Superman logos all over the house. It started when I decided the "S" stood for sober, and that helped me quit drinking for good back in June of 2015.
What else? Gee, I don't know. Who'd still be reading this?
If you happen to be, we should connect.