When it comes to music, Kevin's fascination has always rested on the craft of songwriting. Kevin is passionate about the music – and musicians – that inspire him, and enjoys writing songs for his own enjoyment when the mood strikes.
Since the early 90's, Kevin has written hundreds of songs, but has recorded only a handful of them to date. As time passes, he hopes to bring an increased earnestness for demoing and distributing parts of his vast collected catalogue, creating new work, and performing as time allows.
A look at Kevin's musical history (click on a disc title for track listings, lyrics and download links):
DISCOGRAPHY:
"Solo: The Return of No Schedule Man"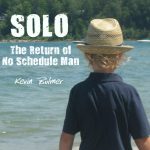 4-song acoustic EP.
Released February 21, 2014

---
Full length CD
Released June 26, 2010
---
3-song EP
Released July 27, 2007
---
"Light It Up"
Single, released December 2000
"Forget About Tomorrow (with the band "Innocent Bystander")"
5-song cassette, released in 1994
PROJECT SUMMARIES:
2014: "Solo: The Return of No Schedule Man"
A 4-song acoustic EP, released on February 21, 2014.
2010: "No Schedule Man"
Released on June 26, 2010, "No Schedule Man" is Kevin's full-length CD debut. Comprised of twelve songs written between 2002 and 2009, the collection reflects Kevin's strong feelings for hope, accountability, creativity and positive action.
Click here to read more about "No Schedule Man"
2007: "I Remember"
Over a six-year period from 2001 through 2006, Kevin was mostly inactive as a performer, due mostly to the incredible time commitments he took on in his professional career. Coupled with that, Kevin's two sons were born; Eddie in 2003 and Jaden in 2006. Though Kevin kept writing songs of all types, he played live very seldom.
That all changed early in 2007 when Kevin took on a project in honour of his grandfather, Murray Newkirk, writing and recording three songs in support of the Wallaceburg Antique Motor and Boat Outing (WAMBO) and the town of Wallaceburg in general.
In February of 2007, Kevin brought to Wallaceburg a song he'd written years earlier. He played it for WAMBO Chairman Chip Gordon and town historian and author, Alan Mann. They instantly encouraged Kevin to continue with the project.
Kevin soon wrote the songs "I Remember" and "Glass" and began the process of trying to get them on CD. To help out, he called his old friend from the Riverband, Dave Cook, and began working with London-based producer, Kevin Gorman.
In June of 2007, the "I Remember" CD was recorded at KG Records in London. It was released in July of 2007.
In addition to the three songs on the CD, Kevin once again mixed in his own songs for many of the subsequent performances to support the disc, including "Everything's Just Fine," "Orlando," "Bagley Avenue," "Benjamin Briggs," "No Schedule Man" and "Back to Buena Vista."
Some highlights of that time:
Performed at Wallaceburg & District Museum new "Glass Gallery" exhibit opening ceremonies
Performed at WAMBO for Knights of Columbus charity dinner, on main stage on opening night and in refreshment tent on the Saturday night
Performed original "Evening of Image, Story and Song" concert at Jeanne Gordon Theatre in Wallaceburg
Supporting artist for Juno-award winner, David Francey at Sarnia Library Auditorium and at Aeolian Hall in London
Click here to read more about "I Remember."
2001: Celebration of Lights and Solo Acoustic
One of the biggest events in the Sarnia-Lambton community is the annual Christmas time light display, the "Celebration of Lights". In the summer of the 2000, the event organizers approached Kevin about writing and recording a new theme song. The result was "Light It Up" which Kevin recorded with Mark O'Reilly of Sarnia.
The song received significant airplay on CHOK Radio in Sarnia that holiday season. Kevin also performed the song, along with "Freedom" at the official opening ceremonies at the Dow People Place in Sarnia(old friend Kevin Claxton joined him for lead guitar and harmony vocals).
Kevin also produced and performed a solo acoustic concert designed as a fundraiser for the Celebration of Lights, a non-profit group.
2000: "Freight Train"
On the heels of Kevin's experience with the Riverband, Kevin put together the three-piece outfit he called Freight Train for one reason: "I'd been told you couldn't go into a bar and perform original music and get away with it. So, I decided to go out and do exactly that."
"The first night was a little rough, I'll admit," Kevin remembers with a chuckle. "But once we got our feet underneath it, we cooked up it real nice. And yes, people danced to the original songs and even sang along with a couple by the third night. In fact, every now and then, I still get asked if Freight Train is ever going to do another gig."
Some highlights:
Interviewed and performed "Freedom" on the Cogeco TV show Harada and Friends
Performed "Freedom" live on 99.9 the Fox FM in Sarnia
Four-night run at Dallas City Limits in Sarnia
Late 1990′s: The RiverBand
The group approached Kevin about coming on board as a songwriter, rhythm guitar player and backup vocalist. On the premise that the group was intent on recording a new pop/rock original CD, Kevin agreed. He quickly learned the band's catalogue of cover material and set out on writing new songs, one of which was later performed on live TV.
Months later, little interest had been shown by the band in pursuing original music. "I had an absolute blast with those guys but I didn't get the impression they really wanted to break from their formula of performing popular cover songs, and I suppose I can understand why, looking at the success they'd had with that," Kevin reflected. "But that's not why I was there. So I wished the guys the best and moved on."
Some highlights:
Headlined Canada Day Festival in Centennial Park in Sarnia in 1999.
Performed throughout Lambton County and parts of Kent County in Ontario
Performed Kevin's original song "Sunken Soldier" live on CFPL TV in London
Early 90′s: "Innoncent Bystander"
Innocent Bystander was Kevin's first band. He sang lead and co-wrote all the original songs for the group, which had a brief but productive run of rock and roll in the early 1990's. Some highlights:
Recorded a 5-song demo tape called "Forget About Tomorrow" (sold every copy!)
Won Beal Secondary School's "Battle of the Bands"
Represented London and the "Stay Clear Festival" and performed in Toronto
Played festival at Victoria Park in London, opening for the Doug Varty Band
Performed at Canada Day Festival at White Oaks Park in London, where Kevin also performed the National Anthem