Why Not Use Your (Not So) Secret Content Marketing Weapon That None Of Your Competitors Are Using?!
Introducing A Simple, Fun & Effective "Multi-Purpose Magic Trick" To Build Connection & Trust, Increase Engagement & Conversion, Set Your Brand Apart & Create Something That
Works For You

24/7, 365
Where Is
Your

Story?!

As you start reading the beginning of this article, you will find yourself realizing that you're open to something new. You may even be seeking that leading edge. After all, you work hard. You do a great job. You have good, hard-working people on your team who work tirelessly to serve your customers.

Have you noticed yet that your business has a unique personality, an original way of doing things, and that people appreciate it? For, after all, you are your business. You and your team. Nobody else does what you do the way you do it, or took the path that you've taken to where who you are today. You have every right to feel proud and passionate about that; to celebrate it, share it and show it.

So … where are you?!

Where are your people?

Where are the faces?

Where are your stories?
We Compare Ourselves To Perfect, But We Don't Relate To It. What We Relate To, Is "Real"
As you absorb this information, you'll begin to realize that you deserve to get great results for your investment of time and money, to stand out as the "original" that you are, and to have others in your industry wonder what the heck it is that you're doing to create such great results.
But … as you're beginning to see … you're over-thinking it. For just a moment, let's stop looking at what others are doing and saying, comparing and competing, and just consider what we relate to as human beings.
We relate to other people. Faces. Places. Stories. Community. Connection. Shared experience.
So why do most marketers shout, "price, price, price?"
Everyone says they have the best price, the best service, the best quality.
Everyone says we can "trust" them.
Blah, blah, blah, blah, blah …
If you're a potential client or customer, where's the relatability in that? Why would you care?
Aren't fair prices, good quality and decent service things that we should just expect anymore?
So who are you? What makes you you?
In other words … why would I care?
Your (Not-So) Secret Weapon, and How To Use It
Of course you've heard that the average user spends about 88% more time on a website with video on it**. But not just any video (we'll get to that).
Rare thinking people like you also know that ….
Original video results in greater engagement & retention rates.
Consistent use of video builds trust & stronger emotional connection.
Video increases conversions (sales).
Google loves video. The longer a visitors stays on your site, the more it builds search engine trust.
Video encourages social sharing (this is what we used to call "word-of-mouth" in the 20th century)
Once you understand a few very basic, simple processes, you'll see how easy it is to use one video as a "multi-purpose" tool to create all kinds of different content, as if by magic. Except it's not magic at all.
And best of all … it works

for you

. Engaging video allows you to make connections, add value and offer solutions without even being there, and unlike a traditional radio or TV ad, it doesn't disappear forever after it's played once.
But Isn't Video Expensive & Time Consuming?
It doesn't have to be. Not anymore. These days, everyone is carrying a potential TV studio or radio show in their pocket with the latest smartphone.
Remember … we compare ourselves to perfect but we don't relate to that. We relate to real. That means, when it comes to video as a content marketing weapon, the simpler, the more relatable, the more human, the more consistent … the better.
It used to be businesses wanted "a" video. A sales piece or "manifesto." And there's nothing wrong with those.
But what you want in the 21st century is a series of simpler videos, a conversation, a process of building emotional connection.
Besides, once it's out there, it works for you, making it one of the highest-value ROI activities you can do to build emotional connection, trust and a deeper relationship with your customers.
Wait – I'm No TV Star. How Do We Do This?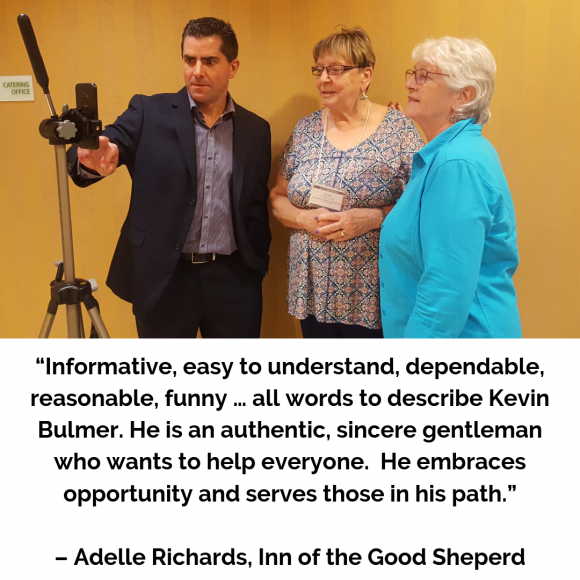 You probably already know this, but if you can have a conversation with another person, you can easily and comfortably create unique, engaging and genuine video content.
Wouldn't it be amazing to have access to a conversation and content specialist, whose job it was to set you completely at ease and have you feeling comfortable and safe so that what you say translates as genuine, relaxed and sincere as opposed to coming across as "staged" and "set up."
Are you beginning to see how if you're willing to invest just a few hours, we'll have fun co-creating weeks' worth of engaging, original video content? And you'll find it easy and enjoyable. Our goal will be to generate at least 26 short videos with a half-day's work, which will be enough to strategically release two new videos a week for the next 3 months (which we will also help you with).
The days of prententious "put-ons" are done. People smell a staged act, and they run from it. They know when they're being "sold" something, and to them it feels phony. Fake.
All you need to do is just be yourself. No scripts. No studio. We'll come to you, and will make it comfortable and easy.  It's our job to put you at ease, to capture you just being yourself, sharing your own stories in your own way. After we're done, we'll edit and prepare it all and be there to help you roll it out over the coming weeks.
Sounds Great, But What's This Going To Cost?
It's a great question, and the answer depends on a lot of variables related to your needs and specific expectations. You could get started with something simple in the hundreds of dollars or you could really make an impact for weeks & months to come – with ongoing implementation support and coaching included – for three-to-five thousand dollars.
The best thing to do is fill out the form below to schedule a call so we can find out what's the right place to start for you.
And by the way, if you really want super-charge your Facebook and/or Instagram feed, ask about adding photography while we're there!
Now, I would love to help you experience the power and effectiveness of this approach. Give us a half-day, and we'll give you something that none of your competitors have, something that works for you, that sets you apart, that creates connection, increases conversion, engagement and trust.
Or … just keep doing the same thing, over and over again, hoping for a different result, like all the others.
Looking for "social proof?" Click here for a long list of testimonials from people who have worked with me.
Want to learn more? Get in touch by filling out this form and we'll set up a call.
**Sources:
https://www.vidyard.com/blog/importance-of-video-content-marketing/
https://www.forbes.com/sites/lilachbullock/2018/12/21/why-you-need-to-start-creating-more-videos-on-social-media/
https://www.forbes.com/sites/tjmccue/2018/06/22/video-marketing-2018-trends-continues-to-explode-as-the-way-to-reach-customers/#405aab7a598d
https://www.dreamgrow.com/8-reasons-why-your-business-should-use-video-marketing/