I believe far too many of us have love all wrong. We're still sitting around and waiting for it to be bestowed upon us by way of a sensation that never leaves. But real love is not a temporary euphoria like being awash in Tinkerbell's pixie dust. It's not just something you feel. Love is something you do.
Stephen Covey wrote of this in his fabulous book, "7 Habits of Highly Effective People." When I read that book, I was not expecting to encounter anything that equated to relationship advice (though it makes perfect sense to me now that to enjoy true abundance in life, all things need to be in balance, including richness of relationships).
In that passage, Covey describes the occasion a man approached him following a seminar to express his concern that he and his wife just "don't have the same feelings for each other we used to have." He went on to suggest that perhaps he just didn't love her anymore, and asked Covey what he should do.
Covey told him to love her. Taken aback, the man didn't understand. Covey said, "My friend, love is a verb. Love – the feeling – is a fruit of love, the verb. So love her. Serve her. Sacrifice. Listen to her. Empathize. Appreciate. Affirm her."
It's brilliant advice. I wish I'd read and understood it ten years before I did.
Positive Action Seldom Fails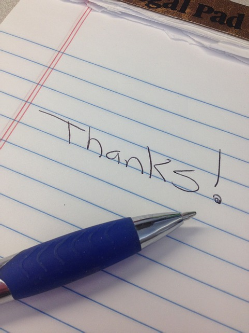 This really is the formula for just about anything else as well. Whatever you want to ultimately experience, start doing it. The feelings will follow.
If you want to experience more things to be grateful for, get into the state of expressing and feeling genuine gratitude for what you already have. If you are looking to get into better shape or have more money or get a better job, the sure way to be able to manifest those things is to begin experiencing – through visualization, goal setting, and reflection –  what it actually feels like and to begin acting as if that change has already occurred.
In just about every case, the action and the attitude shift comes before the change in results or external or physical appearances or realities. For instance, before you lose weight, you first must begin to act in a healthier manner. Eat better foods, exercise, get more sleep, think better thoughts. Do these things, and you'll feel better. You won't be able to help it!

Before you begin to have more money, you must change your attitude and your habits along with it. Pay off debt, begin to save and learn how to invest, seek assistance from those who know. Get comfortable with taking charge of your finances. Stretch yourself to become more than just what you do each day at work. Challenge yourself to open up multiple sources of income and pursue your passions. Act the part and the results you seek externally will eventually manifest. But sitting around and wishing for windfall to solve all of your issues doesn't do anything to address all of the underlying habits and attitudes. This is likely why there are so many stories of people who come into great riches that fall right back into bankruptcy. The money does not change who they fundamentally are; it magnifies it!
"You Get What You Give" is Cliche for a reason
Love is the same way. If you want to feel more of it, give more of it. Make it your way. Love yourself, and you'll have more to give to others. If you are just sitting around waiting for someone or something to send love to you, you're probably not in the vibration to openly accept and appreciate it anyway. So give more love! Express appreciation! Show your gratitude at every opportunity! Do everything Covey suggested to the man who approached him at that seminar, and more.
The things that we don't enjoy as much are going to happen from time to time. Why not take charge, feel, live and experience more love in all the times in between?
Love isn't just something you feel. Love is something you do. And the more you do it, the more you'll feel it, for yourself and everyone around you.
Thoughts? As always, your comments are encouraged. What are some of the things that you do to express and feel more love each day?