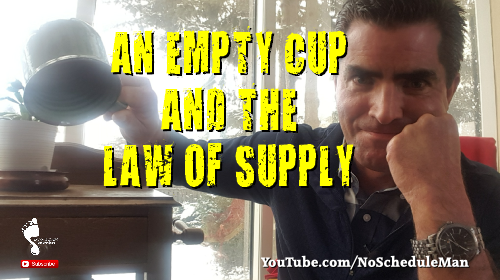 I wonder what comes immediately to mind when I ask you how you view this cup (in the photo to the right)? It wouldn't surprise me if you said, "Well, Kevin, it's empty."
In cases like that, what many of us see is just that: emptiness.
But I wonder, would the cup be more helpful to me, or would it hold more possibility, if it were full?
SUBSCRIBE: YouTube  | Email Newsletter
Empty. It's a word that can sometimes have a negative connotation. I've done that myself. I'm not all that many years removed from using the word "empty" to describe my own experience: depressed, lost, broken … empty.
Yet, if you think about something like an empty cup, it's a thing that is made useful because of the space that's inside it, the emptiness. When this space exists, when it's empty, the good news is I can fill it with whatever I want. How useful is it to try to pour something into a cup that's already full?
Eventually, I began learning about things like the Law of Supply and how we can ask for and manifest new good things, more empowering things to come to us. But in order to do that, first, we've got to make room for it. So I think then about the cup.
If you're like me, your cup runneth over. It's not only already full, it's overflowing. Well, if that's the case, how then could we possibly expect to receive something new, something good?
The question then becomes, if our cups are full or overflowing, what are they full with? What's it going to take to empty some of that out?
And what do we need to make room for?
Other Episodes You Might Like …
If you enjoyed this video, I'm pretty sure you'll like these ones as well:​
Want to be notified of future videos? SUBSCRIBE to my YouTube Channel and join my mailing list to stay up-to-date.
For daily coaching & support, visit www.TheTurtleTribe.com.