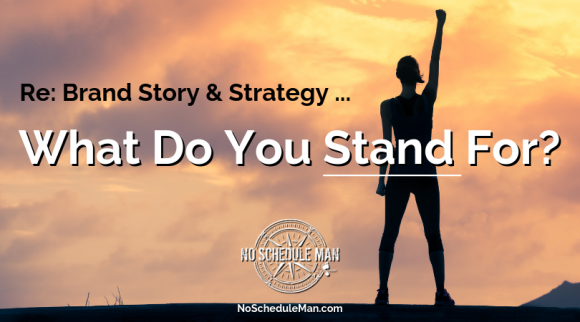 Want to have an interesting conversation with your team?
Try this: In discovering and implementing a magnetic brand story and strategy, ask yourself and your team:
What do you

stand

for?
But wait! I'm going to rig the game.
Here are the rules:
You can't say price.
You can't say quality.
You can't say service.
You can't say trust.
You can't just say you "value your clients and customers."
Why can't you say these things?
Because, anymore, they should all just be assumed. If I'm the potential client or customer, I should be able to safely assume I'm going to get a fair price for decent quality & service I can trust if I choose to do business with you again. Because if I don't get these things, it won't matter to me how much you say you "value your customers" … because I'll be looking somewhere else.
So … back to where we started:
What do you stand for?
What values, emotions, experience, stories and creative gifts does your business and brand represent?
You might be surprised what comes up in the discussion. And if you'd like my help in prompting the conversation, just send me a note or visit this page to see how I might be able to help.
Have fun with it!
---
Kevin Bulmer is the founder of No Schedule Man Brand Media and producer and host of the momondays London inspirational event series.
As a dynamic, down-to-earth and highly engaging professional speaker, it's Kevin's intention to uplift through a shared example of continual growth. He has a gift for helping people see themselves from a fresh perspective on matters related to mindset and effective marketing messaging. In both cases, it pretty much comes down to just being true to yourself … a principle which is fundamentally simple, but not necessarily easy to do.
To stay in touch with Kevin on a day-to-day basis, join his online personal growth support community, "The Turtle Tribe." Membership is free for Kevin's active email subscribers.