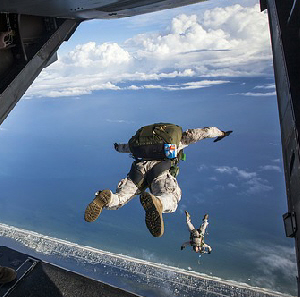 I recently shot a video blog (below) where I was trying to make a point about how natural it is for us to assume a major risk for very little reward. What got me thinking about it was how routinely I see people making potentially high-risk driving decisions where the probability for personal harm goes way, way up. I see things like that happening all the time, despite the fact that the "reward" can only potentially be the benefit of saving a miniscule amount of time. And yet, when it comes to living a life more true to ourselves, doing what we love for a living, really speaking openly and honestly and allowing ourselves to be what we would consider to be vulnerable, many – if not most — of us think that's too much of a risk. This fascinates me.
Tip-Toeing Safely to Death
Bob Proctor has been heard to say, "Most people tip-toe through life trying to make it safely to death. What a dumb game."
I'm beginning to really understand what he means.
Something interesting happened to me when I reach the age of 40. I went from an almost constant anxiety from feeling like I had run out of time, to being completely resolved to work harder to make the most of whatever time I might have left. I also began to feel a lot less concerned with risking disapproval, judgement or failure, when I compare that to the risk of getting to the end of my life and not having been more true to myself or done what I believe I am here to do. In fact, I think I've done more in the last 6 months then in the previous five or six years combined. So, what am I really risking here?

Trading Your Life
In his extraordinary little book, "You2," Price Pritchett says, "Risk believing in yourself. Risk acting on the assumption that you can succeed in making a Quantum Leap. Otherwise the risk is that you will settle for only a fraction of what life has to give you."
John Assaraf often speaks to a similar notion with the reminder that we are trading our lives for what we are doing right now. That idea speaks to the risk Pritchett refers to in "You2," that we'll one day arrive at the end of our days wishing we could have our time back so that we could try the things we wish we'd tried and done the things we always wanted to do.
Think about it for a moment and see how it feels: You're trading your life for what you're currently doing, each and every day.
Once the moment is gone, you can never get it back. That's not risk so much as fact. In many ways, I find that thought rather sobering. But it's also empowering if you're willing to accept impermanence as a fundamental fact of life. I believe I have, and have since made a lot of changes because of it, with many more to come. I'm determined, one way or the other, not to risk settling for less than life can give me. Looking back, I can see that I've done enough of that already.
Why is This So Hard?

Why do we find this so difficult? What could possibly make us so casual about something like driving into traffic when we are, very realistically, risking our lives in hopes of saving a few seconds of time, yet it seems unnatural to stop and ponder the risk that we are feeding every day that we will get to the end of our life without ever really haven't felt fulfilled. Are we not "risking our lives" in both cases?
We seem to be so afraid of the unknown that might await us that the great minority of people won't accept the risk of stepping out of our shells and breaking away from the herd in an effort to live the life we really wish we could live. Why do we just assume that the things we don't yet know will affect us negatively? Why can't change mean possibility and opportunity? Even just the thought of change can trigger feelings that something's got to be wrong. Why?
Is there not ample evidence of people that have done this over and over – made the leap to live more aligned with their true essence and values – and been wildly successful? Is there also not an equal (or greater) amount of evidence to show that people often do exactly as Proctor has suggested: "Tip-toe through life trying to make it safely to death," only to get to the end of their days filled with regret that they wish they'd been more true to themselves, said what was really on their mind, or done what it was they really felt they were here to do?
Which risk is greater? Why are we afraid to take one risk but not the other?
What a Dumb Game
We embrace what we view as "safe" even if it makes us miserable. And we fear what we view as "opportunity" because we think of it as too big of a risk.
As Proctor said … what a dumb game.
In his book, "You Were Born Rich," Proctor offers the following: "You must always remember you will never hear of, read about, or see anyone who achieves anything of greatness in his or her own life, without first taking some kind of a risk."
I guarantee you that he is not talking about driving foolishly into traffic.

Comments:
What is it that you would really like to be doing, or not doing, if only you were willing to take the risk? Please leave a comment, below, and let me know what that looks like for you.
Resources:
I read and make notes on a couple of pages from "You2" every single morning. It's a fascinating little book. Proctor and Assaraf are also among my favourite mentors.
Want to know how to think and act more positively more of the time? Click here for more of my story and how John Assaraf's Neurogym has been such an enormous help.