Podcast interview with David Ciccarelli of Voices.com
Revisiting this conversation with David Ciccarelli got me thinking: how do we get from here to there? Or in other words, how can we get from where we are to where we think we want to be?
If you're reading this, you have stumbled across a living, breathing and constantly evolving attempt to address that question. It took me some time to realize, but I eventually clued in that this very podcast is much like the larger context to which we all contribute.
It's a journey.
Subscribe to the podcast:
The destination we choose is what gets us moving forward. But it's the motion that gives us life. The steps. The stops. The rapids. The rest. The roadblocks. The rejoicing.
Up until this week, my podcast has been called the "No Schedule Man Podcast." I've never really been completely satisfied with that name. I called it that because, back when I started, I thought that was a slightly more interesting name than, "The Kevin Bulmer Show."
There definitely is a meaning behind and mythology about the words "No Schedule Man," which first were lyrics to a song and then a CD title and later a podcast name, keynote speech and workshop and, basically, a way of life. But as far as letting people know what the podcast was actually about, it's never really done a great job. But that's okay. It was only meant to help me get started, and it certainly has done that and then some.
What's In A Name?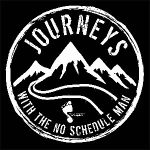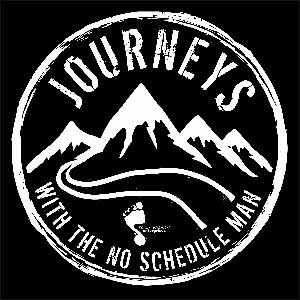 I could make the argument that this new name, "Journeys with the No Schedule Man," is not a whole lot better than the original from a marketing perspective. In terms of finding an immediate audience, I realize I would be much better off using some marketing gimmick of naming it something direct but unoriginal like "The Positive Thought Weekly Podcast," or "The Personal Development Hour." But that does not appeal to me.
Anyone can come up with a headline, title or marketing gimmick. But not everyone is willing to lead a search, be the curator and caretaker of many people's most personal stories, to raise their hand and ask the question a lot of people are thinking of but no one wants to ask, or to serve as a sort of quasi sherpa  for anyone else who is interested in embarking upon the journey of connecting with who they really are and discovering what's possible when they identify, embrace, and begin to live with a real sense of authenticity.
Well, I am.
It's with all that in mind that I'm proud to say that the name and artwork of this show has been updated to better reflect what I feel it is: a journey. And so we will go for the next while anyway as "Journeys with the No Schedule Man." I hope you'll come along and add to the adventure.
Getting In the Game: Reflections On the Journey So Far
Since every guest of the podcast shares, I thought I would also share things that are very personal, as my life has changed immeasurably since I began moving forward in my journey with life. When I began this show, I did so not because I had an end in mind, but just because I felt driven to do it. I decided that I would ignore most of my natural instincts (that voice that tells you that you don't have enough time or aren't good enough or couldn't or shouldn't) and just allow myself to jump into the pool and figure out why I was there later on.
I had to ignore the anxiety of a lot of different voices that would ask me who my core audience was, what my avatar was, what my niche is or micro-niche was. I didn't know. I still only have a vague idea. But I'm in the game, and I have created something that has changed my life and contributed to the lives of a lot of other people in a positive way. I know this to be true because they've told me so.
Changes In Attitudes, Changes In Latitudes
At the time of this writing, I've made what I consider to be a fairly significant life change. I've just left a job I've had for the last five and a half years so that I can focus 100% of my time and attention on creating and contributing through my own business, Kevin Bulmer Enterprises, and my speaking, workshops, seminars, coaching, writing and the podcasts and videos I create.
When I started the podcast, I was not intending for that change to be made. Not at all. But as you might learn from different people that teach personal development and how things like the Law of Attraction works, when you begin to act and work in alignment with your true self and your core values, really interesting, magical things begin to happen. And other interesting and magical people are put across your path when you are committed to moving forward.
20/20 Hindsight: I Can Now Recognize What Happened
I don't know what awaits ahead, although I certainly have a vision of the projects and pursuits that will drive me forward. I feel comfortable in knowing that the reality will turn out to look something different from what I am imagining now and that's not only okay, that's probably going to be awesome!
But looking back, I can see that it is absolutely obvious that there have been certain people and occurrences that have helped both push and pull me up the mountain and change the course of my journey. And so while I work to get this name switched over (which is a pretty big project), and also look to get recharged a bit over what remains of the summer, I thought this would be an appropriate time to revisit a few conversations that hindsight shows me have been absolutely pivotal in my development and to tell a bit of the story of each.
So over the next few weeks, I hope that you will join me in exploring these episodes and also reflecting on your own journey, both where you have been, and where you wish to go.
A Big Question & Powerful Exercise
I'm going to ask you right now … are you taking the time to recognize and appreciate the signs that you've been getting along the road that has led you to where you are now? Most of us have very little trouble in naming the things that we don't care for so much, but what about the act of appreciating the good stuff?
Try it. Look back. Appreciate. See how it feels. And if you'd like an example to follow, you're in the right place, as that's exactly what I am here to do with the first 4 weeks of what will now be known as, "Journeys with the No Schedule Man."
Special Edition Week 1: David Ciccarelli of Voices.com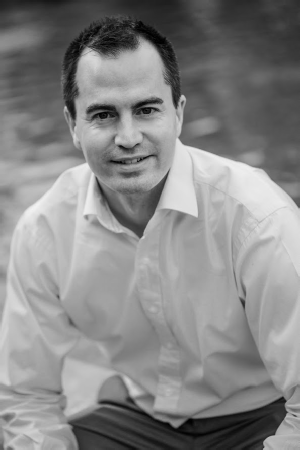 This is week one. And the first of the Special Edition episodes could only be the conversation I had with David Ciccarelli, the founder, co-creator and CEO of Voices.com, an industry-leading company that connects businesses with professional voice talent. Voices.com is used by radio and television stations, advertising agencies and a wide variety of Fortune 500 companies who rely on David Ciccarelli and his team to be able to help them search for, audition and hire voice talent.
Though they are based in my hometown of London, Ontario, Canada, Voices.com serves businesses and voice talent from all over the world, and at the time of this recording, Voices.com had just recently receive an 18-million dollar investment to help them expand and grow and continue to thrive and employ even more people. And I'd like you to keep that context in mind as you hear what David shares about how it all started, and the journey to get to where they are today.
On a personal note, I was absolutely thrilled one day a few weeks ago when I received a personal email from David to tell me of the news of their growth. David may not know this, but his kindness and courtesy has meant a great deal to me.
A Hand Up Gave Me Confidence To Keep Climbing
Back when I was just trying to get my legs underneath me with this podcast, I had reached out to David Ciccarelli to see if he would be willing to join me, as he and I had met before few years ago and, I think he would tell you, we enjoyed each other's company. I certainly appreciated him and his time. After we created what was Episode 10 of the original podcast, I remember posting on social media a message that said something to the effect of, "At some point I'm going to look back and identify this as the episode where the podcast found its legs."
Looking back, I can confirm that's been absolutely true. After I talked to David, I gained more confidence through the perspective of honoring the journey and just doing the work, which is a theme that developed over the next several episodes well over a year ago. I then began to connect with people well outside my immediate circle and within weeks of talking with David Ciccarelli, I had connected with guests (and indeed, people whom I looked up to very much) on three other continents and began to realize that the podcast could be something much more than I had imagined when I started.
What you will hear in David's story is much the same. What he gave was a very clear, relaxed, and down-to-earth yet fascinating account of how a guy from little old London, Ontario, Canada starts out with something all on his own and then, over a period of time and through consistent effort, vision and resourcefulness, grows the business into something of a global scale.
The Jazz Is In The Journey!
It's a powerful, valuable story. It gives me strength and hope in thinking about my own journey, goals, dreams, projects and processes. I think it's easy to forget that all things are first thoughts and all people, no matter how much we care to prop them up or view them as successful or not, are just people. They are just human beings. This story is valuable because it's so real and down-to-earth.
David, in my opinion and experience, is one of the good ones. And so I encourage you, if you have anything in your life that you are looking to improve or achieve – a POSSIBILITY you're ready to pursue – listen to what David Ciccarelli has to share and consider your own desires and journey along the way. You will see that it is a matter of simply doing the best with where you are and continuing to move forward. That's what he's been doing with Voices.com. That's what I'm doing with this podcast and my life and career in general. That's what you are likely doing in some area of your life if you are at all interested in listening to a podcast like this.
And so, with that in mind, I welcome you to "Journeys with the No Schedule Man" and I thank you for your presence.
Let's all go up the mountain together.
Listen, Watch and Subscribe to "Journeys with the No Schedule Man"
You can find those and all archived episodes at NoScheduleManPodcast.com or at: Apple Podcasts (iTunes) | Google Podcasts | iHeart Radio | Spotify | Stitcher
Stay In Touch:
Subscribe here to get Kevin's free inspirational email updates.
After you confirm your subscription, you'll immediately receive an email with a free 10-page PDF on Kevin's "4 Keys To Contentment."
---
The founder of No Schedule Man Brand Media, Kevin Bulmer is a Strategic Marketing and Mindset Coach and Keynote Speaker. He is the producer and host of the momondays London inspirational event series, strategic marketing coach for Awesomepreneurs and is also host of the podcast, "Journeys with the No Schedule Man."
Day-to-day, Kevin helps heart-centered entrepreneurs find their "REAL" success so they can feel free to live and work happy. His overarching purpose is to uplift through a shared example of continual growth.