Podcast interview with Jim Estill of Danby Appliances.
Can you build a business worth multiple hundreds of millions of dollars, and even a multi-billion dollar business, by putting people first and doing the right thing?
The answer must be yes, because that's what Jim Estill does.
I've recently been re-reading Bob Proctor's book, "You Were Born Rich." In it, he reminds us to, "love people and use money." I certainly have worked for and with many organizations whose actions would suggest the reverse of that notion.
Not this week's guest. Not Jim Estill.
Subscribe to the podcast:
Jim Estill is the CEO and president of Danby, an appliance company that sells microwaves, compact refrigerators, air conditioners, dehumidifiers, wine coolers and other small appliances. They're based in the city of Guelph, Ontario, not far from Toronto.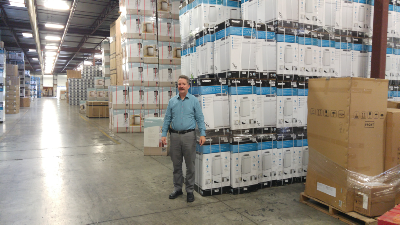 Jim recently sponsored more than 50 families of Syrian refugees to get resettled in the Guelph area. He was named to the Order of Ontario here in Canada, the province's highest honour.

But that's not why Jim did it. He did it because he felt it was the right thing to do, and he actually feels guilty that he's not able to help everyone.

And while we did discuss the decision – and process – to facilitate assisting those families, I was really interested in Jim's journey overall, and what led him to be in the position he's in today.

The more fundamental, day-to-day compassionate culture encouraged and led by Jim is immediately apparent when you walk in the Danby corporate offices.
How do you treat your co-worker? Well, you do the right thing. How do you treat your customer? Do the right thing. How do you treat your suppliers? Do the right thing.
– Jim Estill, Danby Appliances
When you've been in and out of his many businesses as I have, you can just pick up on these things. It's in the way the rest of the staff refer to each other, and especially their leader. It's reflected in their body language, their tone of voice and even the general energy in the building.
It seems very clear to me that Jim Estill puts people first. While he has many terrific accomplishments and accolades to share from the course of his career, he's the only person that I've ever come across who lists himself as a "Humanitarian" on his LinkedIn profile.


From creating and running a painting business while in high school; to then starting a company while in university that was eventually sold and then scaled up to 2 billion dollars in revenue under his leadership; to serving on the Board of RIM – makers of the famous Blackberry (which ruled that space for a while) – for 13 years to his current role at Danby Appliances and everything in between, it's been quite a professional journey for Jim so far. But through all that, it's Jim's character and compassion that jumps out first and seems to be the consistent thread. I think it's an important story to hear and to share and I'm really glad I got the opportunity to do both of those things.
When you do things that are aligned with your values, you get into a non-stress flow situation.
– Jim Estill, Danby Appliances
If you listen through this conversation, notice that at no time do you hear Jim talk about market conditions or economic fluctuations or competitors or really anything that is beyond his scope of influence. What he talks about is responsibility, asking himself who he needs to be in order for the entire company to get better, how he needs to grow and what he needs to give up.
Some of the key things I took away from my time with Jim include:
20 Keys – Jim tells an important story of the time in his career when he was micromanaging to the point of exhaustion. Always the first to arrive and the last to leave, the solution was to get – and give – 20 keys; one of each of his staff.
"Doing the right thing" scales – The golden rule is a deep well. A very deep, empowering and magnetic well.
One of the best ways to be of more service and value to others, is two continue to grow and work on yourself – Jim is a shining example of the value that can be brought to others by taking on the task of improving oneself. He gives many examples of how his done that and why, and how that's benefited his life and career.
If you have any interest in building business with integrity, you will enjoy Jim's story. And perhaps more fundamentally, if you just like to hear about good people doing good in the world not for any other reason but that it's the right thing to do, you're really going to like this.
Here is the story of Jim Estill, CEO & President of Danby Appliances, on Journeys with the No Schedule Man:
Listen, Watch and Subscribe to "Journeys with the No Schedule Man"
You can find those and all archived episodes at NoScheduleManPodcast.com or at: Apple Podcasts (iTunes) | Google Podcasts | iHeart Radio | Spotify | Stitcher
Stay In Touch:
Subscribe here to get Kevin's free inspirational email updates.
After you confirm your subscription, you'll immediately receive an email with a free 10-page PDF on Kevin's "4 Keys To Contentment."
---
The founder of No Schedule Man Brand Media, Kevin Bulmer is a Strategic Marketing and Mindset Coach and Keynote Speaker. He is the producer and host of the momondays London inspirational event series, strategic marketing coach for Awesomepreneurs and is also host of the podcast, "Journeys with the No Schedule Man."
Day-to-day, Kevin helps heart-centered entrepreneurs find their "REAL" success so they can feel free to live and work happy. His overarching purpose is to uplift through a shared example of continual growth.