Screw the Naysayers – Tim Alison | Journeys with the No Schedule Man, Ep. 78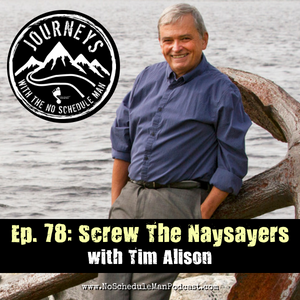 When you daydream about the things you really wish you could be doing or would like to be doing, how much does potential feedback from the naysayers influence what you do … or choose not to do?
Tim Alison is a semi-retired entrepreneur who, at the time of this recording, is about to release a book called "Screw the Naysayers." He has already started producing and sharing a podcast of the same name.
Stay up-to-date on future episodes:
Tim's primary goal? To empower young people to do the work they are uniquely suited to do and live a life that aligns their work with the things they care about most.
His message is simple: Know the life you want and have the courage to live it.
A few of the key takeaways from my time with Tim:
Realizing he felt singled out as a child and therefore over-sensitive as an adult – I thought this was an observation that showed a high degree of self awareness and accountability on Tim's part and I encourage you to listen for what he shares about this, along with what he had to do about it in order to move his life
forward.
 The "eerie calm' of honoring intuition – A strange things happens when you're "sure" of where you're going even when all external signs seem to point toward reasons for panic or worry. I instantly knew what Tim was referring to when he said he felt "eerily calm" even when things didn't appear to be going well. This part alone is a must-hear for aspiring entrepreneurs.
A recipe for happiness – Align your life around the things you care about. I'd say that sounds like a pretty good recipe. It's beautiful in its simplicity. And yet, "simple" and "easy" are not always the same things, which may explain why so many of us are not as happy as we could be.
Here's the story of Tim Alison, on how and why the idea for "Screw the Naysayers" was born, on "Journeys with the No Schedule Man:"
Podcast Episode Links
Listen to this episode on: iTunes | iHeart Radio | Libsyn| Stitcher | YouTube
Learn more about Tim Alison:
Website: ScrewTheNaysayers.com
Other Episodes You Might Like …
If you enjoyed the story in this episode, I'm pretty sure you'll like these ones as well:​
You can find those and all archived episodes at NoScheduleManPodcast.com, iHeart Radio, iTunes, Stitcher, YouTube and on Google Play Music
---
Want To Continue The Conversation? Join The "Turtle Tribe" Online Community

If you're serious about the process of cultivating a mindset that better serves your ability to do your best work and live your best life, try joining my online mastermind & mentorship community – The Turtle Tribe – for more coaching, support, encouragement and collaboration.
To learn more and start a free 7-day trial membership, click here.