The Road To Becoming a NASCAR Champion – Cole Pearn (Re-release) | Journeys with the No Schedule Man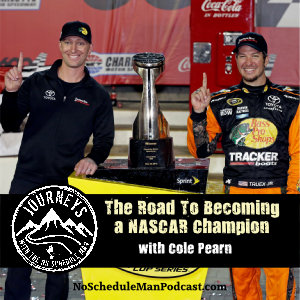 How far would you be willing to go in pursuit of your dream? What would you be willing to give up to go after it? And how long would you be willing to be patient while you worked, and worked, and worked trying to attain it?
This week, we revisit a chat with Cole Pearn that originally took place in January 2017, just a few weeks prior to the Daytona 500 and the start of the Monster Energy NASCAR Cup Series season.
11 months later, Pearn is now a NASCAR Champion, Crew Chief of the #78 Furniture Row Racing team driven by Martin Truex Jr.
Stay up-to-date on future episodes:
Truex & Pearn won 8 races in 2017, including the final contest at Homestead, Florida, where they beat out Brad Keselowski, Kevin Harvick and Kyle Busch, all former series champions in their own right. They also collected wins at Las Vegas, Kansas (twice), Kentucky, Watkins Glen, Chicago and Charlotte through the course of the season.
In this discussion, Pearn recalls his journey that has taken him from following in his dad's footsteps as teenager racer based out of a tiny little town called Mount Brydges, Ontario, to leaving his job at Toyota to go to North Carolina to eventually earning the Crew Chief's post with Furniture Row Racing and the incredible success they've enjoyed ever since.
This story is a testament to knowing what you want, having the guts to go after it and working relentlessly to do the right things over and over and over again until the results come.
Pearn didn't know he would be at the time we had this chat, but he is now a NASCAR Monster Energy Cup Championship-winning Crew Chief.
©2017 Kevin Bulmer Enterprises
Podcast Episode Links
Listen to this episode on: iTunes | iHeart Radio | Libsyn| Stitcher | YouTube
Learn More about Cole Pearn
Website: Furniture Row Racing | NASCAR.com
Social Media: Twitter
If you liked this episode, you'll probably like …
Other Episodes You Might Like …
If you enjoyed the story in this episode, I'm pretty sure you'll like these ones as well:​
You can find those and all archived episodes at NoScheduleManPodcast.com, iHeart Radio, iTunes, Stitcher, YouTube and on Google Play Music.
Please leave a comment, subscribe and share!