Podcast interview with John Davidson of Jesse's Journey.
How far would you be willing to go to make a difference for someone you love and for something that you believe in? What is one thing that could be done to take the first step to get started?
This week, we're joined by John Davidson, an incredibly kind and compassionate man who has had an extraordinarily positive impact on people around the world. Many people have benefited directly through the formation of the Jesse's Journey organization and all of the research and proactive work that has been done to combat Duchenne Muscular Dystrophy. Countless others have been inspired and empowered by viewing John's example, the example of his son Jesse, his wife Sherene and all of the selfless volunteers who not only helped John make Jesse's Journey into a living and breathing entity, but who continue to blaze the trail and keep the work going today.
Subscribe to the podcast: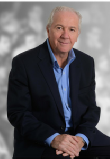 Most people in Canada over the age of 30 or so will automatically have an idea of who John Davidson is. But to provide context to anyone from around the world of any age, here is a little bit of background for context.
In the mid-1980's, John's son, Jesse, was diagnosed with Duchenne Muscular Dystrophy, a progressive genetic muscular system disease that gradually weakens the body's muscles. Duchenne is an incurable and severe form of Muscular Dystrophy that occurs most commonly in children, and boys especially.
In the years that followed, John and Sherene realized that the only way they might ever find a cure for Duchenne would be through research, which they knew would require enormous investment and commitment. What was referred to as Jesse's Journey was then born with the mission to raise research money in order to find a cure for Jesse and for others suffering from Duchenne Muscular Dystrophy.
In the summer of 1995, at the age of 49, John set out on an incredible mission to push Jesse, wheelchair-bound at 15 years old at the time, across the Canadian province of Ontario. That's 3,339 km which equates to over 2,074 miles. It was an enormous undertaking and an extraordinary accomplishment
That grueling test of endurance generated 1.5 million dollars for research. That alone would have been astounding. But as it turned out, the journey was just beginning.
How Far Would You Go?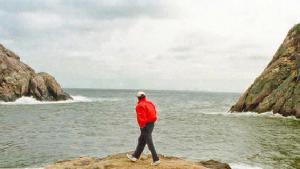 Three years later, in 1998, John set out on an even more imposing adventure, spending 286 consecutive days on the road as he journeyed 8,300 km all the way across the entire country of Canada on foot. That's over 5,157 miles that John walked, never sleeping in the same bed for almost 300 straight nights, walking over 30km a day for more than three-quarters of a year.
How big is Canada? It's over nine million, nine-hundred thousand square kilometers. India, Mexico, Egypt, France, Spain, Japan, Germany, Italy, New Zealand, and the United Kingdom could all easily fit inside Canada's border with over a million square kilometers of land to spare (at least according to the data on this site).
It's a BIG country. John Davidson walked across it.
That trip generated $2,000,000 in grassroots donations made by Canadians across the country. And the movement has only grown from there.
By the way, John is the Guinness Book of World Records holder for the fastest crossing of Canada on foot. In addition to that, he has received the order of Ontario and the Queen Elizabeth II Jubilee medal, among many other accolades and honors.
An Extraordinary Story
The rest, I would prefer to let you hear straight from John as he tells an extraordinary story and shares so many valuable insights and life lessons that I really hope that you listen carefully, maybe even more than once.
As you will hear, there is an incredible amount of wisdom to be absorbed from what John has to share about his experiences. Here are just three of the many things that really stood out to me from this conversation.
"You Must Make Start" – That's not a typo, he tells the story about where that phrase came from and why it's so important.
Knowing Who You Are – I feel very passionate about this perhaps because I'm aware that I got it so wrong for so much of my life. I thought I knew who I was, when I really didn't have much of an idea. I was following people who didn't know where they were going and listening to people that didn't have much of value to say. Really being in touch with and aware of who you are means you bring contentment with you wherever you go. You don't need circumstances to change to find happiness. You bring happiness to any circumstance.
People Are Great –  Take it from a guy who walked across the second-largest country (in terms of geographic landmass), in the world. John Davidson met a lot of people. And what he found is that people are great.
This is an extraordinary story you are going to love it. Settle in and come along, as we explore the story of Jesse's Journey with John Davidson, on "Journeys with the No Schedule Man!"
Listen, Watch and Subscribe to "Journeys with the No Schedule Man"
You can find those and all archived episodes at NoScheduleManPodcast.com or at: Apple Podcasts (iTunes) | Google Podcasts | iHeart Radio | Spotify | Stitcher
Stay In Touch:
Subscribe here to get Kevin's free inspirational email updates.
After you confirm your subscription, you'll immediately receive an email with a free 10-page PDF on Kevin's "4 Keys To Contentment."
---
The founder of No Schedule Man Brand Media, Kevin Bulmer is a Strategic Marketing and Mindset Coach and Keynote Speaker. He is the producer and host of the momondays London inspirational event series, strategic marketing coach for Awesomepreneurs and is also host of the podcast, "Journeys with the No Schedule Man."
Day-to-day, Kevin helps heart-centered entrepreneurs find their "REAL" success so they can feel free to live and work happy. His overarching purpose is to uplift through a shared example of continual growth.