Podcast interview with professional speaker, Gair Maxwell
Are you a willing participant in your constant reinvention?
It's happening to you, and to your business, whether you choose to participate or not.
I believe that life is a constant process of reinvention. Call it evolution or whatever you like, but impermanence is a fundamental fact of life and yet it's something that we, as humans, seem to resist the most.
So what kind of mindset do you have: growth, or fixed?
Subscribe to the podcast:
We're in part 3 of 4 special edition episodes of "Journeys with the No Schedule Man" as we reflect back upon the journey of this project so far and take a few moments to recognize some of the key developments along the way.
As I look back, I can tell you that no one person that I've met in recent years has had as much impact on my life in a positive way as Gair Maxwell. And if it weren't for this podcast, I may never have found him. I reached out to him because I thought he'd make a great guest, and we still can't seem to agree on how exactly I came across him online (I honestly don't remember), but I'm glad I did.
Gair is an International Speaker, Author, Co-Creator of "Huggable University" with Jim Gilbert (featured in Ep. 50) & "The Antarctic Method" with Mike Pierce. But more than any of that, he's just become an absolutely treasured friend and mentor as I embark upon my own reinvention.
The Wizard At The Side Of The Road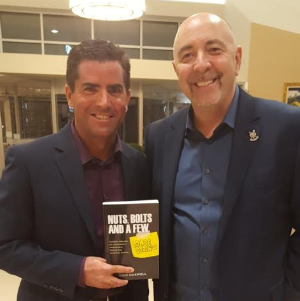 Look back on the story of any hero's journey and you'll find that there is usually some kind of wizard at the side of the road to help the protagonist at some point. In this example, the protagonist is me. And in the time since I've grown to know, appreciate and love Gair, I often find myself referring to him as my own personal "Obi-Wan Kenobi." He's had that much of a positive impact on my life.
I wonder … who has been like that for you? And can you allow yourself to trust that more people of that sort will cross your path if you can only just allow yourself to lean into discomfort, embrace impermanence and embark upon the journey of reinvention? I'm amazed, when I look back (as I have been doing with the last few weeks of the podcast) to examine just how strategically some people seem to arise as part of my journey. The benefit of hindsight allows me to reflect with understanding on just how important it was for them to show up, exactly when they did.
I think that, if you look back, you'll find that you've had those kinds of people come into your life at every stage as well. But despite our constant fear of change, we seem to adapt to a "new normal" very quickly, and I think the by-product of that is that we don't always fully reflect upon and appreciate the kinds of people, like Gair Maxwell, that we didn't always know.
Without Gair, my "Rise Like a Phoenix, Race Like a Turtle" would not exist, certainly not in the form it does now. But that one piece of work alone as been central in driving me forward the last 6-8 months of my life.
Without Gair, I doubt I'd have met countless people who have become great friends, mentors and supporters. Many of them have been guests on this podcast, and I met them because of Gair.
A Passion For Growth
The day that I recorded the new segment for this episode, I'd met Gair for a coffee, at 7am at – of course – a Starbucks (a different one from where we recorded the original episode, but still a familiar-feeling place). Gair had emailed me the night before asking if I'd be up for an "early morning jam session" (kind of a creative idea exchange), so of course I showed up! We talked about reinvention, growth mindset, creativity and not just the willingness to change, but the guts to actually go out and pursue it.
I came back from that morning coffee all charged up, as I always am after I'm with him. And so when I recorded the new parts for this Special Edition episode, I literally just opened up the microphone and said what I felt. It was interesting for me to hear what came out. I was pleased by it. Very pleased, and grateful.
Because I didn't know Gair at the time we recorded the initial episode in the fall of 2016, we talked about many things that have not come up between us since, things like the difference between being on "transmit" instead of "receive," the window of opportunity never busting wide open, but just budging a tiny crack, leaving it up to us to decide whether we want to try and break through or not. I doubt we could have the same conversation now.
Who's Your "Obi-Wan?"
I hope that, whether you actually listen to the episode or not, you'll take what I've shared here and then consider it in the context of your own life. Who are the people who have really made the difference for you? How have you changed as a result? How have you grown? What have you learned?
And when's the last time you truly stopped to consider where you'd be without that person, and expressed your gratitude by letting them know? Please don't assume they know. Even if they do, tell them anyway. And then go out, "use the force" and do what you can to make them proud.
You'll both be better for it.
Listen, Watch and Subscribe to "Journeys with the No Schedule Man"
You can find those and all archived episodes at NoScheduleManPodcast.com or at: Apple Podcasts (iTunes) | Google Podcasts | iHeart Radio | Spotify | Stitcher
Stay In Touch:
Subscribe here to get Kevin's free inspirational email updates.
After you confirm your subscription, you'll immediately receive an email with a free 10-page PDF on Kevin's "4 Keys To Contentment."
---
The founder of No Schedule Man Brand Media, Kevin Bulmer is a Strategic Marketing and Mindset Coach and Keynote Speaker. He is the producer and host of the momondays London inspirational event series, strategic marketing coach for Awesomepreneurs and is also host of the podcast, "Journeys with the No Schedule Man."
Day-to-day, Kevin helps heart-centered entrepreneurs find their "REAL" success so they can feel free to live and work happy. His overarching purpose is to uplift through a shared example of continual growth.